EnvisionTEC Ultra 3SP
The EnvisionTEC Utltra 3SP series can quickly print quality prints regardless of its geometric complexities thanks to its exclusive 3SP technology.

Ideal for industries like Aerospace, Automotive, or medical, the Ultra 3SP is transforming production manufacturing and is an attractive solution for a wide range of industrial applications looking for high speed productivity.

The printer Ultra 3SP from envisonTEC is a 3D printer that provides you excellent final prints even for complex shapes. Fitted with a resolution of 100
µm, the Ultra 3SP printer can print high accurate part and is faster than most of the other printers on the market. Its printing surface of

266 x 175 x 193 mm makes it

a great 3D printer option for consumer or automotive industries.

Ultra 3SP has an integrated software for an automatic generation supports enabling perfect prints from concept models to functional parts.
It is equipped with a built-in touch screen, simplifying the use of the machine.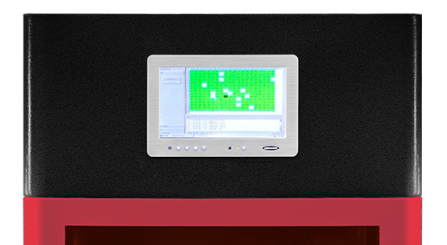 Applications :
This printer can be used in a wide variety of applications as Aerospace, Entertainment, Automotive, Consumer Goods, Education, Medical Devices, Manufacturing.



Key features:
Minimal material wate for a low part cost
Single material use
Easily removable
Few moving parts for a user-serviceable system

Built-in touch screen for a friendly plug-and-play

Software integrated

Compatible materials:


ABS Flex White
E-Glass 2.0
Data sheet
Printing Technology

Advanced SLA

Build Volume W x D x H (mm) // W x D x H (inch)

266 x 175 x 193 mm (10.5 x 6.9 x 7.6 in.)

Layer Thickness / Print Precision

0.002" - 0.004" (50 - 100 μm)

Weight

198 lbs (89.8 kg)

Material

ABS Flex white, E-Glass 2.0

XY Resolution

0.004" (100 µm)

Special Features

Layerless technology with no stair stepping oninner and outer surfaces

File Input Format

STL

Input Voltage / Power

100-120V