EnvisionTEC Vector HD 3SP
With a 3SP technology, the EnvisionTEC Vector HD is an industrial 3D printer than can quickly print quality prints in a variety of materials regardless of its geometric complexities. For industries like Aerospace, Automotive, or Medical, the Vector HD 3SP transforming production manufacturing and is an attractive solution for a wide range of industrial applications.

The printer Vector HD 3SP from envisonTEC has a
300 x 175 x 275
mm printing surface and a resolution of
50.8 µm,
making it ideal for manufacuring requiring large 3D prints with high-quality. Known for its printing accuracy, envisionTEC has added a faster printing speeds through the Vector series printers.

Vector HD 3SP has an integrated software that automatically generates supports for a perfect print. Also equiped with a stand-alone PC, files can be easely transferred on the 3D printer.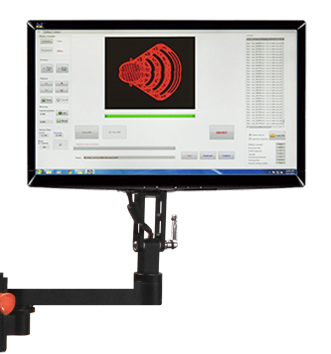 Applications:


This printer can be used in a wide variety of applications as Aerospace, Entertainment, Automotive, Consumer Goods, Education, Medical Devices, Manufacturing



Key features:
Minimal material waste for a low part cost
Single material use
Few moving parts for a user-serviceable system
Stand-alone PC with touchscreen monitor included
Software integrated

Compatible materials:


E-Glass 2.0
ABS Hi-Impact
E-Model
FormCast Powered by Somos
Data sheet
Printing Technology

SLA

Build Volume W x D x H (mm) // W x D x H (inch)

300 x 175 x 275 mm (11.8 x 6.9 x 10.8 in.)

Layer Thickness / Print Precision

0.002" - 0.004" (50-100 μm)

Weight

423 lbs (192 kg)

XY Resolution

0.1mm

Special Features

Allows forthe production of large high resolution 3Dparts

File Input Format

STL

Input Voltage / Power

220 Volt