EnvisionTEC Xede 3SP Ortho
The EnvisionTEC Xede Ortho is an industrial 3D printer for Orthodontic. With a 3SP technology, it can quickly print quality prints regardless of its geometric complexities. Its reliable light source and high speed productivity make this printer one of the best on the market. The Xede 3SP Ortho transforming production manufacturing and is an attractive solution for orthodontic applications.

The printer Xede 3SP Ortho from envisonTEC has a 457 x 457 x 102 mm printing surface making it ideal for the print of 36 high-quality aligner models or up to 24 appliance models in one build. Known for its printing accuracy, envisionTEC has added a fast printing speed and reliable light source through to the Xede series printers.

Xede 3SP Ortho has an integrated software that automatically generates support for a perfect print. Also equipped with a stand-alone PC, files can be easily transferred to the 3D printer.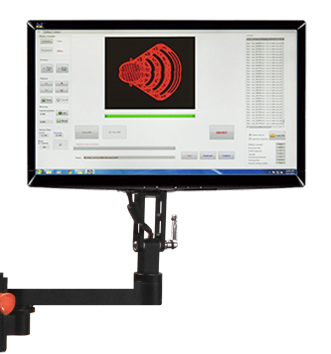 Applications :


This printer is applicable for Orthodontics use.


Key features:
Minimal material waste for a low part cost
Single material use
Few moving parts for a user-serviceable system
Stand-alone PC with toutchscreen monitor inculded
Software integrated

Compatible materials:


Data sheet
Printing Technology

Advanced SLA

Build Volume W x D x H (mm) // W x D x H (inch)

18 x 18 x 4 in. (457 x 457 x 102 mm)

Layer Thickness / Print Precision

0.02" - 0.004" (50-100 μm)

Weight

1245 lbs (565 kg)

Material

EnvisionTEC 3SP Blade Materials

XY Resolution

0.004" (100 µm)

File Input Format

STL

Input Voltage / Power

220 Volt