BCN3D Sigmax plays a leading role in the winning formula:
Using a BCN3D Sigmax to fabricate cooling brake ducts and other parts, has completely transformed the workflow of building an entire formula-type race car for ETSEIB Motorsport Team.
COMPANY: ETSEIB Motorsport
INDUSTRY: Automotive, Engineering, Education.
APPLICATION: Functional parts: Ends-use parts, functional validation.
The Team:
The team, ETSEIB Motorsport, is in its 10th year of designing a formula-type race car for competitions, having created 4 years of combustion and 6 years of electric cars. With some of the most experienced and leading team members in the competition, the team consists of 40 industrial engineers from the Polytechnic University of Catalonia in Spain.
The team competes in Formula Student: a competition between students from universities around the world that promotes excellence in engineering through a competition where team members design, build, test, and race a formula-type racing car. The Formula Student competition is held once a year, so teams must build a new car every year with very tight budgets. That's where the challenge comes in.
The Challenge:
The ETSEIB Motorsport team has relied on 3D printing technology and has been able to speed up their design phase and to fabricate end-use pieces that can be directly mounted onto the car staright off the printer. The team needed to efficiently build another winning formula car without going over budget and in the alotted time which can be very challenging without 3D printing.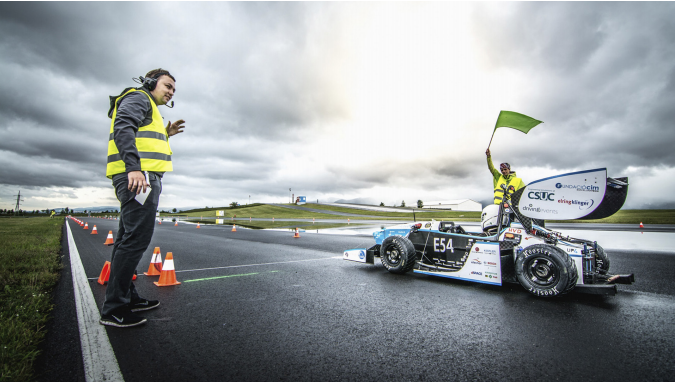 The Solution:
The team at ETSEIB Motorsport chose the BCN3D Sigmax 3D printer because it allowed them to place and print certain parts of the car on the printing platform. They were able to print large batches of small precision parts, and large functional parts without having to scale down or print them in pieces.
The Sigmax has a unique Independent Dual Extruder (IDEX) system and it two productive printing modes has given the engineers the ability to print symmetrical or identical pieces at the same time. This greatly benefits the automotive field since many of the pieces are symmetrical.
The Sigmax is compatible with an entire hotend family. For any small parts that need a lot of precision, they used Ø0.4 mm size nozzles and for their bigger parts that are going to be subjected to mechanical stress, they use bigger nozzles such as Ø0.8mm or Ø1.0mm.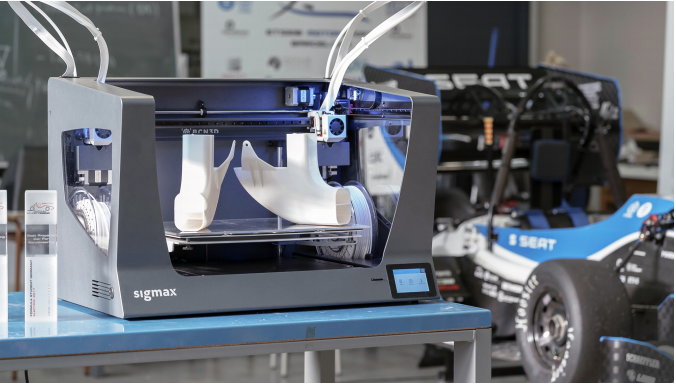 The Result:
After implementing the Sigmax into their day-to-day operations, the engineers were able to improve design iterations, rapidly manufacture their end-parts in real time, and reduce overall costs.
Improved design iterations: Having a 3D printer in-house allows the engineers to print their CAD designs overnight, drastically reducing the validation and iteration time. This new procedure ensures the Formula team does not longer depend on external suppliers to fabricate their parts, allowing them to spend more time developing new ideas and concepts
Rapid manufacturing end-use parts: Some examples of parts created are cooling brake ducts, several cable ties and even printed molds to make pieces of carbon fiber like the steering wheel.
Reducing overall car costs and lead times: Having the Sigmax in-house has allowed them to reduce the costs of the car. The team has been able to produce even their complex and unique parts quicker and at a lower cost than traditional methods.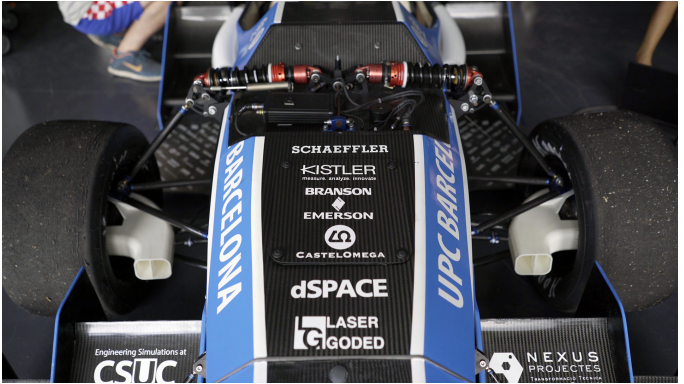 Thanks to the BCN3D Sigmax 3D printer, the ETSEIB Motorsport team has been able to optimize their production and achieve greater efficiency.
Comments
Leave your comment