ByFlow 3D printer recipes
Recipes for 3D printed food
MERINGUE
Meringue, a very tasty ingredient you can use to create heavenly desserts now also in beautiful designs. Put on your kitchen apron and become a 3D food print chef yourself!

Ingredients:
- 30 grams of egg white
- 30 grams of water
- 75 grams of Sugar
- 5 grams of Glucose Syrup (or omit glucose syrup, added with 85 grams of sugar)

Preparation:
Whisk the egg white until slightly beaten.
Mix the water with the sugar and the Glucose Syrup and heat up to 118 degrees Celcius.
Gently pour the sugar to the slightly beaten egg white and mix them until room temperature is reached.
Your meringue is now ready to print!

Tip! For the best printing results without layer visibility in your print, omit the Glucose Syrup and leave the meringue mixture for about 2-3 hours after preparation (at room temperature). Note that the mixture will be less stable.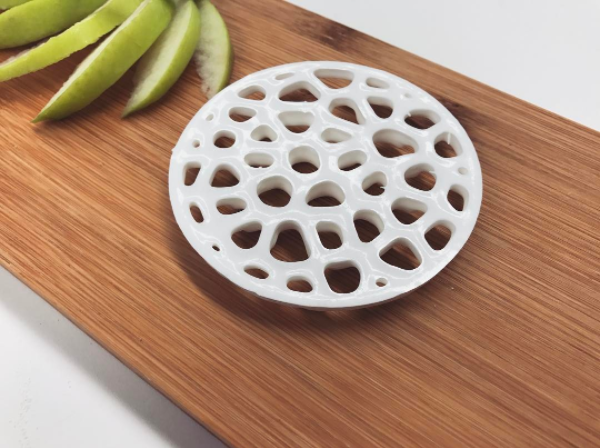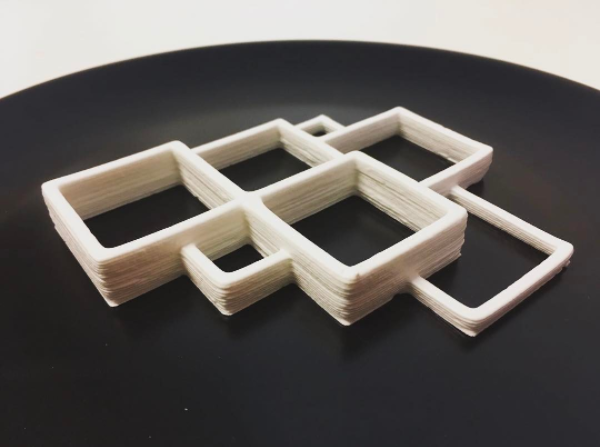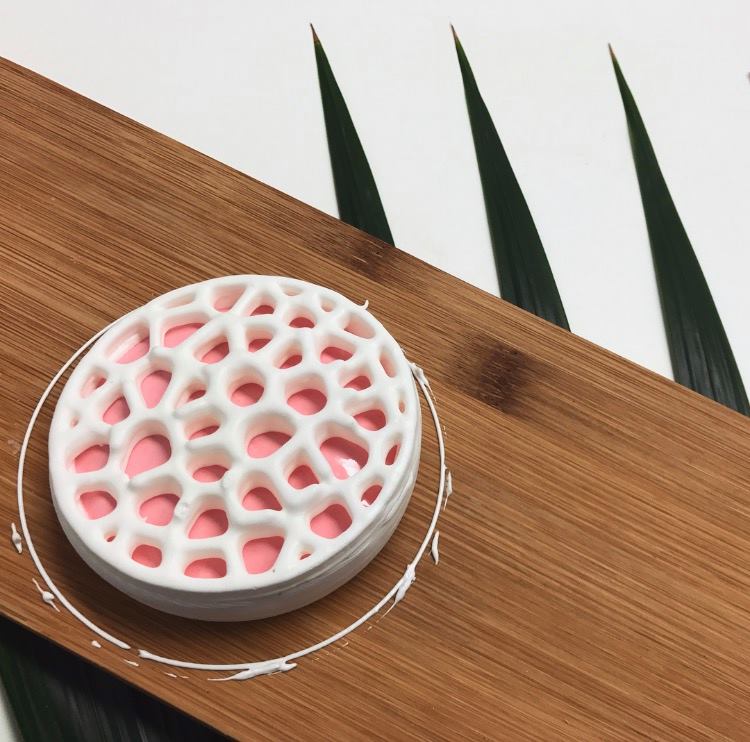 CHOCOLATE
Who does not love chocolate?! Find below the secret to create your designs in the most delicious specialities on the planet, dark chocolate ganache!

Ingredients:
- 100 grams liquid unwhipped heavy cream
- 100 grams of dark chocolate

Preparation:
-Poor the unwhipped cream in a pan and stir while slowly heating.
-Make sure temperature stays around 60 degrees.
-Crunch the dark chocolate and solve in cream until it's a smooth sirup.
-Remove the pan from the heating source, poor the ganache in a bowl and let it cool down.
-You can put it in the fridge for maximum 15 mins to speed up the process. Stir occasionally to make sure the ganache cools down equally.
-Once the ganache has become a paste like material its ready to fill up a syringe and start printing chocolate.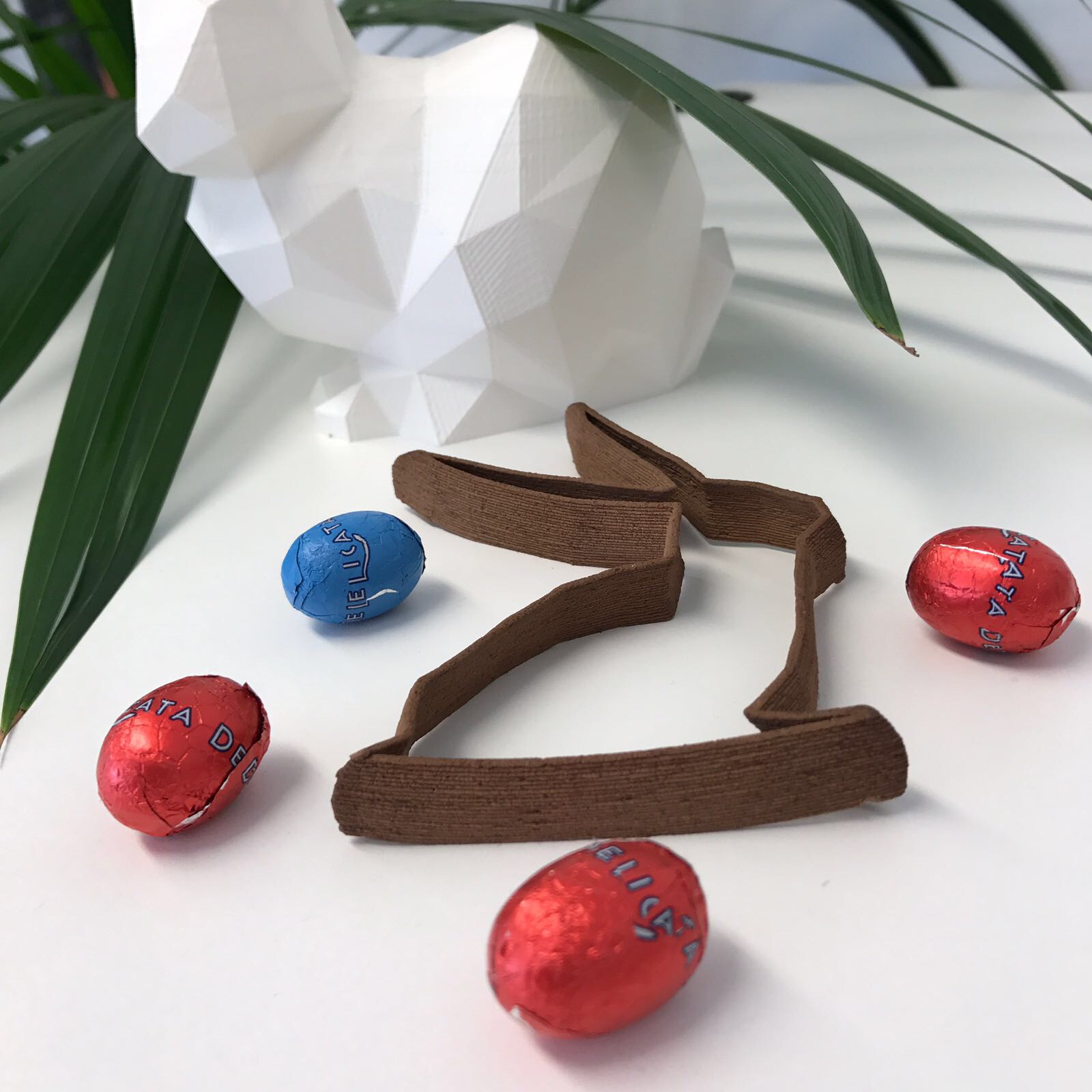 SAVOURY DIPS
Guacamole, hummus and goat cheese are some of the favorite dips around. They are lovely with some nachos, bread, toast, raw vegetables, etc. Besides from being delicious with 3d printing you can go much in further in your presentation and not just smashing it into a bowl.

Prepare the recipes below, download the designs, fill the syringes without air as instructed in the manual, and start 3d printing your dips either on a plate or directly on a cracker! Enjoy!


GUACAMOLE
Blend the ingredients below into a smooth paste.
1 avocado
1 tsp lemon juice
1 tbsp sour cream
salt and peper
tabasco (optional)

Origami design

HUMMUS
Blend the ingredients below into a smooth paste.
200g/7oz canned chickpeas
2 tbsp lemon juice or more
2 garlic cloves, crushed
1 tsp ground cumin Salt
100ml/3½fl oz tahini (sesame seed paste) optional
4 tbsp water
2 tbsp extra virgin olive oil
1 tsp paprika powder

Voronoi design

GOAT CHEESE
Blend the ingredients below into a smooth paste.
100 gram regular soft goat cheese
2 tbsp unwhipped cream

Goat design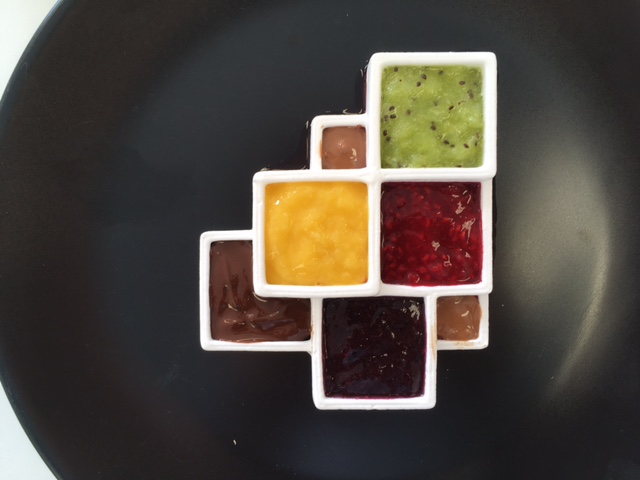 CAVIAR
Combine moleculair cooking and 3D printing to make your own caviar! Caviar is made by extruding droplets of fruit puree in mixture of water and algin. The result is small fruit 'eggs' with a solid shell and liquid inside. A lot of different fruits are possible as long as it can be blended to a very smooth puree, which is more liquid-like than paste-like. Some fruits can also be bought as a puree.

Fruit puree
-Blend 150 gram fruit puree till smooth puree
-Mix with 3 gram Gluco of Texturas

Basin
-Mix 250 gram water with 2g Algin of Texturas
-Use a handmixer at highest speed to dissolve al the powder
-Fill a bowl that covers the size of the printbed and can hold 250g of the mixture

Printing
-Fill the syringes with the fruit puree mixture without air bubbles.
-Insert the syringe in the paste printhead and connect to printer.
-Put the bowl on the printbed so that the frame can still move freely.
-Adjust the height of the printhead manually with the z-axis button that it hovers above the bowl
-Start the g-code you can download here and start printing

Serving
-Once the droplets hit the water their outer shell will become solid, the inside stays liquid.
-Remove the caviar every minute otherwise the drops become fully solid
-You can use a strainer for this so the liquid stays in the bowl
-Serve the caviar on a biscuit or combine in a dish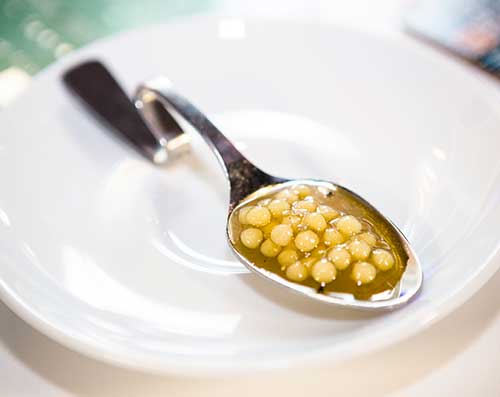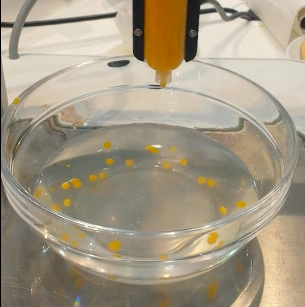 Comments
Leave your comment