HP 3D Structured Light Scanner Pro S3 - Stereo Version
The HP 3D Structured Light Scanner Pro S3 allows you to create precise 360
°
models using mobile hardware and enhanced structured light scanning. The stereo version comes with 2 HD cameras, increasing the precision of the scans while reducing errors. Comes with HP 3D Scan v5 software. Includes 2 year warranty.
The HP 3D Structured Light Scanner Pro S3 scanner enhances the innovative Structured Light technology, which allows precise 3D scanning in a matter of seconds. The handle has been also improved. The scanner is mobile and can be placed easily in front of the surface to be scanned.
A single click in the well proven HP 3D Scan v5 software starts the scanning process and a few seconds later the digitised 3D model appears on the screen – even the colours of the object can be optionally captured and reproduced in the resulting scan!
You will be able to scan all of the sides of the object in succession and subsequently render an enclosed 360° model.
The results can be exported into common 3D file formats (OBJ, STL, PLY) and processed in other applications, e.g. for rapid prototyping, inspection, product presentations, archeology and cultural heritage, works of art, computer animations, video games... The limits are set only by your imagination!

What's in the box:

2 x Industrial HDMI camera with high quality lens
Video projector with special lens for large focal range, including remote control
USB drive with HP 3D Scan v5
Sliding rail (aluminium)
Camera slider
High quality tripod
Calibration panels printed on both sides for multiple scan volumes
Printed instructions
All required connecting cables
Adapters for power supply in over 150 countries
Cable straps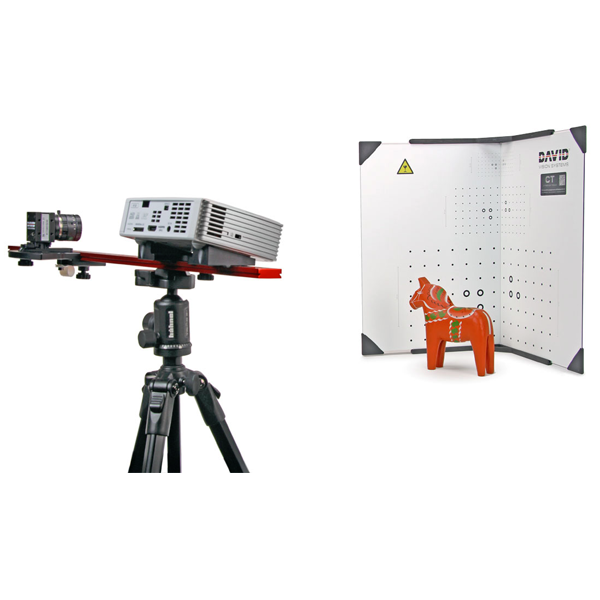 Data sheet
Scan size

60-500 mm

Weight

8.8 kg

Mesh density

Up to 1,2000,000 vertices per scan

Scanning Technology

Structured light

Scanning time

One single scan within 2 seconds (or up to ~10 seconds, depending on settings and computer speed)

Dimensions

32.3 x 61.3 x 20.9 cm

Resolution/Precision

Up to 0,05% of scan size (up to 0,05 mm)

Export formats

OBJ, STL and PLY

Connectivity

USB Connection

Software Compatibility

Windows Vista, 7, 8, 10