Artec Ray 3D Scanner
One of the fastest and most accurate laser scanners of its kind, the Artec3D Ray brings the cleanest 3D data captures than any other large-object 3D scanner available. It is versatile, portable, and user-friendly and by
simply mounting your Artec Ray on a tripod in front of your object and pressing a button!
Ideal for construction, inspection, and product design, it can be used indoors and outdoors for every application.

Long-range laser scanning in ultra-high precision, translated into the cleanest 3D data
iMakr's Verdict
Capture large objects with high-precision submillimeter distance accuracy and best in class angular accuracy. The Ray scanner is one of the fastest and most accurate laser scanners for huge objects, like wind turbines, ship propellers, airplanes and buildings, that may be otherwise impossible with other scanners. The ultra-precise data scans are clean and with noise levels at an absolute minimum-- better than from any other 3D scanner of this type!
The Artec Ray can is a light-weight, versatile, portable, and user-friendly 3D scanner.
With no need for any lengthy preparations, you can 3D scan almost anything by simply mounting your Artec Ray on a tripod in front of your object and pressing a button!




Pair Artec Ray with an Artec handheld 3D scanner, such as Eva or Spider, to effortlessly capture difficult to reach areas, e.g. the interior of a car, or to add intricate detail to a large-scale 3D model. The smart combination of Ray's long-range 3D scanning capabilities along with the convenience and precision of all of Artec's handheld 3D scanners ensures limitless 3D scanning potential.

Key Features:



Ultra-high precision and fast: submillimeter precision and an angular accuracy of 25 arcseconds to ensure you capture every detail

Seamless data scans:

Cleanest 3D data capture for minimum post-processing time

Versatile for applications:

Ideal for reverse engineering, inspection and construction. Scan large objects both indoors and outdoors!

Long-range scanning: Scan up to 110 m away with this professional LIDAR solution






Applications: • Reverse Engineering • Inspection • Construction(BMI) • Industrial Product Design • Forensics • Heritage Preservation •


FIELD-OF-VIEW PER SCAN- Horizontal (maximum): 360° Vertical (maximum): 270°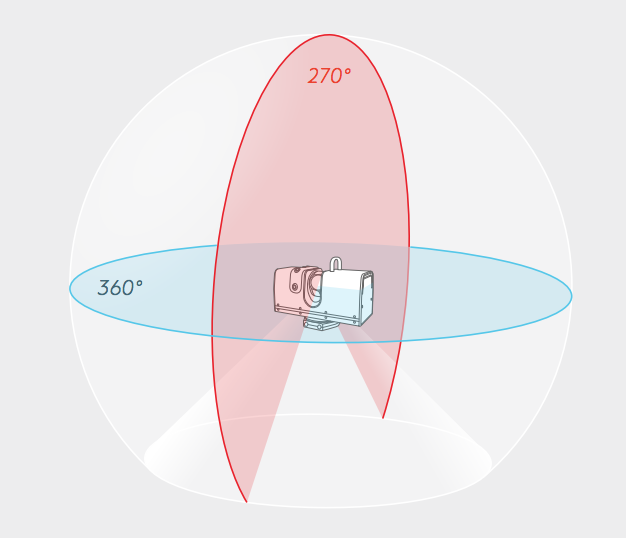 Data sheet
Colour

Two fully integrated 5 megapixel cameras

Scan size

Range: up to 110 m

Weight

5.74 kg

Scanning Technology

Phase Shi, Hemispherical Scanner with 360° x 270° field of view

Power Consumption

30 W

Scanning Software

Geomagic Design X

Power Supply

External: 14 - 24V DC, 30 W Internal: Two Li-Ion 14V, 49Wh batteries, powers the scanner for up to 4 hours

Export formats

OBJ, PLY, WRL, STL, AOP, ASCII, Disney PTEX, E57, XYZRGB, BTX, PTX, CSV, DXF, XML

Scan Mode

Autonomous or via USB

Scan Speed

208,000 pts/sec

Point Distance

Min. Vertical Point Density: 12 points/degree Max. Vertical Point Density: 80 points/degree Min Horizontal Point Density: 2 points/degree Max Horizontal Point Density: 80 points/degree

Manufacturer

Artec3D

Supported OS

Windows 7, 8 or 10 – x64