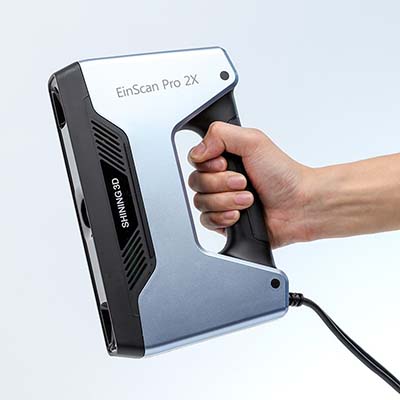 EinScan Pro 2X Scanner:
Multi-functional, portable, and high accuracy 3D scanner.
The
EinScan Pro 2X
is one of the best multi-functional, and high resolution 3D scanners availlable for small objects. Its equipped with the latest development in data capture hardware and optimized algorithms, making it one of the quickest scanners on the market with processing up to 1,500,000 points per second. Its accuracy is almost unmacthed: The minimum point distance is up to 0.2mm under Handheld Rapid Scan and Handheld HD Scan modes, generating high resolution 3D data. Use only what you need with this scanner: Upgrade with add-ons like the colour pack only if needed to expand your use of applications.
Portable & User-friendly Design: Enjoy easy plug-and-play installa-
tion and scanning experience, Take the EinScan Pro 2X scanner anywhere you need it, hassel free
Scan Faster than Ever Before: Optimised scanning speeds, processing up to 1,500,000 points per second (30 fps) under Handheld Rapid Scan Mode
High Accuracy: Single scan accuracy under Fixed Scan without Turntable Mode is up to 0.04 mm. When using markers, the volumetric accuracy under hand-
held scanning modes is up to 0.05mm+0.3mm/m
Catch Fine Details: Minimum point distance is up to 0.2mm generating high resolution 3D data
Versatile Scan Modes & Align Modes: Supports Handheld Rapid Scan, Handheld HD Scan, Fixed Scan without Turntable, and Fixed Scan with Turntable modes, as well as multiple alignment modes including feature alignment, markers alignment, turntable coded targets alignment, and manual alignment
New Scanning Software EXSCAN PRO: Offers brand-new UI and Workflow, User-Friendly Operation, New Operation Mode Option, Simultaneous Data Display, and Mesh Editing
Solid Edge SHINING 3D Edition: Provides users with the tools for solutions covering Convergent Modeling, Synchronous Modeling, Reverse Engineering, Generative Design, Simulation, and Additive Manufacturing



Design Tool From SIEMENS PLM Software: Solid Edge SHINING 3D Edition





The Solid Edge SHINING 3D Edition software includes reverse engineering, generative design, and simulation together with CAD tool in one platform. SHINING 3D EinScan series 3D scanners, integrated with Solid Edge SHINING 3D Edition, provide users the solution covering "3D Digitize – Design & Simulate – Additive Manufacture" to generate more high-quality 3D data for production.

+ Convergent Modeling
+ Synchronous Modeling
+ Reverse Engineering
+ Generative Design
+ Simulation
+ Additive Manufacturing



APPLICATIONS:

∙ Manufacturing & Reverse Engineering
∙ 3D Modeling for Customized Product and Service via 3D Printing
∙ Art & Heritage
∙ Design
∙ Healthcare
∙ Research & Education
∙ Virtual Display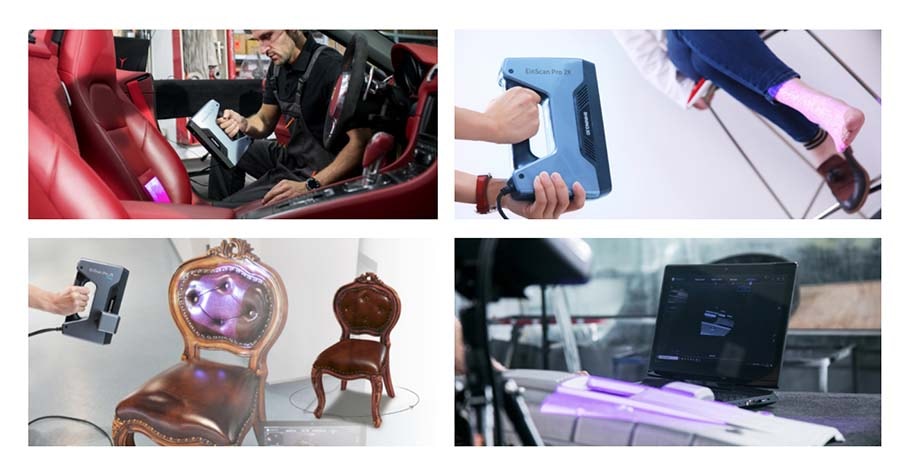 New Installation of Add-ons for the EinScan Pro 2X: