Free Shipping on Online Orders Over £75
ZMorph VX Full Set
The ZMorph VX is one of the most versatile manufacturing machines for your desktop, being a multi-tool, 3-in-1 3D printer, CNC milling and laser engraving machine. Its detachable heads allow the ZMorph to transform into any tool and work with a huge variety of new materials and a whole new range of capabilities.
iMakr Verdict :

The advanced technology of the ZMorph makes it truly one of the most versatile and practical multi-tool 3D printers. With three different fabrication methods, 3D printing, CNC milling, and laser engraving, and dozens of available materials, the ZMorph has been designed to be your workhorse making-machine. The process to change between tool heads is simple and each feature is easy to transition into. The 3D printing feature is top grade; it has the ability to accurately print with two materials to create beautiful colour blending or image mapping. Because the ZMorph VX is a multi-tool machine its list of materials is endless: PLA, ABS, PVA, HIPS, Acrylic glass, machining wax, PVC foam, chocolate, cookie dough, cream cheese and more. It also features autocalibration, an LCD touchscreen for control and a fully enclosed build chamber. The frame of the machine is also constructed of high-quality aluminium and has high precision sliding rails on both the X and Y axes, giving users the most sturdy and reliable creation process. The ZMorph VX full set is best suited for functional prototyping, concept models, end-use parts, PCBs, art and design, mould-making, visual aids, and so much more.




Key Features of the ZMorph VX Full Set :

Multi-tool versatilit y: 3D Printing, CNC, and laser cutting/engraving, all in a single desktop machine.
A wide variety of compatible materials for all processes 3D printing : ABS and derivatives, PLA and derivatives, PVA, PET, ASA, Nylon, HIPS, Thermochrome, TPU, Flex materials.
CNC cutting and engraving: All kinds of wood, Polycarbonate, HDPE, Acrylic glass, Machining wax, Modelling board, Dibond-like composites, Copper laminates (for PCBs), POM, PVC foam.
Laser engraving : All kinds of wood, Leather, Copper Laminate (for PCB).
Laser cutting : Paper, Cardboard, Felt, Thin gasket materials.
Thick paste printing : Chocolate, Cookie dough, Cream cheese, Frosting, Ceramics.
Toolheads and worktables that are interchangeable and easily switched
High-quality 3D printing with auto calibration and advanced two material options, such as dissolvable support material, colour blending, and image mapping
LCD touchscreen interface
Enclosed build chamber for temperature stability and safety
Durable construction designed to withstand the demands of CNC milling and 3D printing
Access over 50 professional materials for both subtractive and additive manufacturing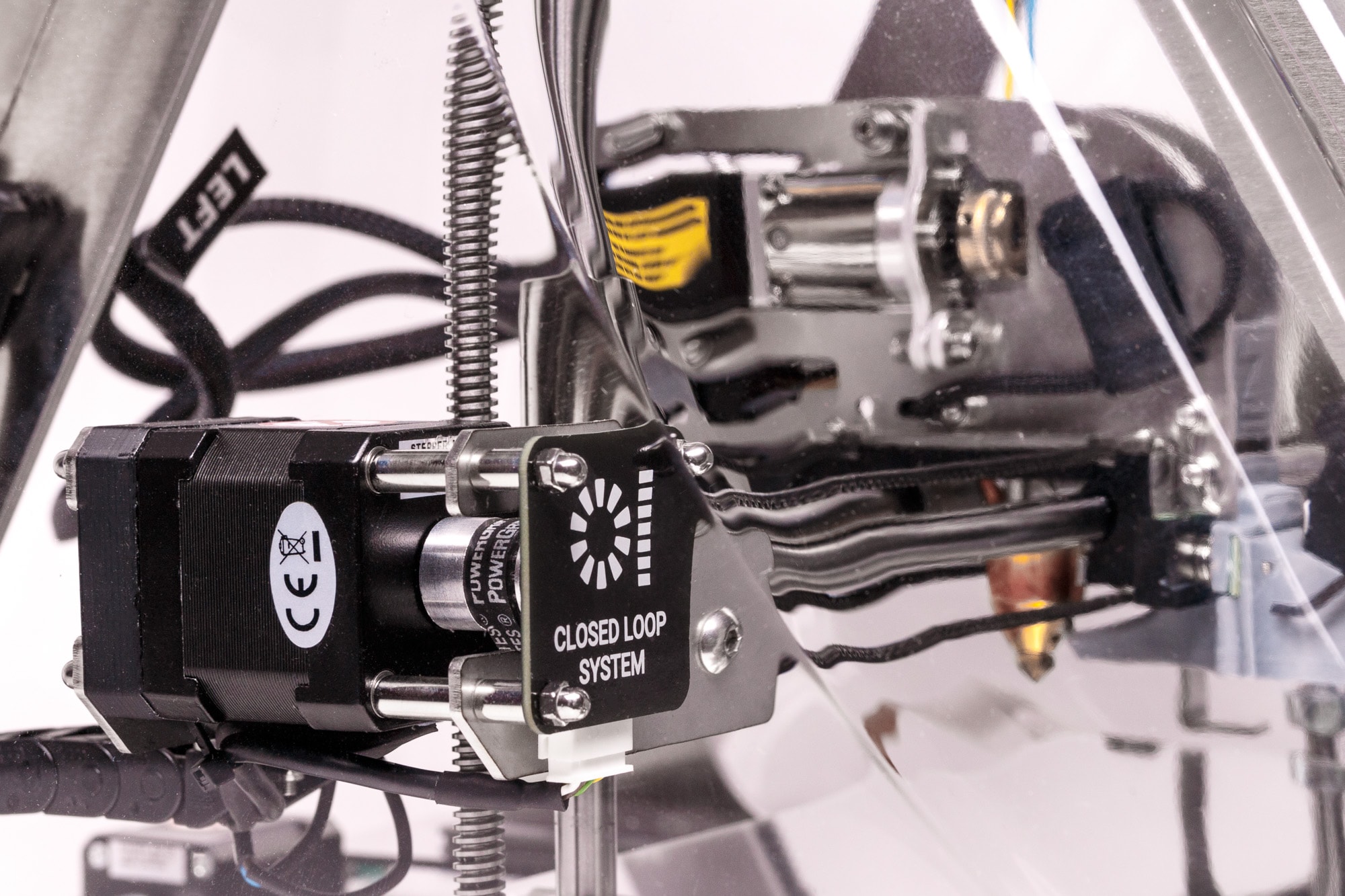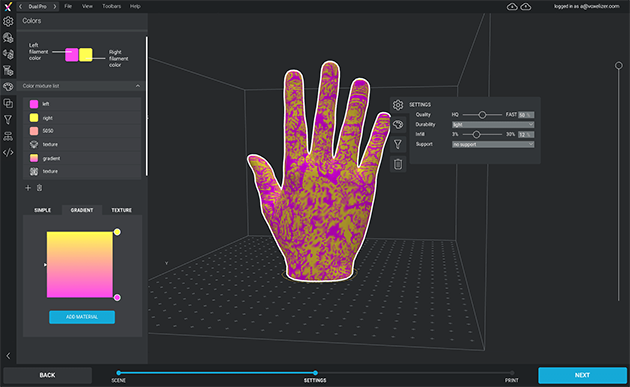 Check out this review on the ZMorph VX from well-known Youtuber 3DMakerNoob



Data sheet
Printing Technology

FFF, CNC, Laser Engraving

Build Volume W x D x H (mm) // W x D x H (inch)

250 x 235 x 165 mm

Extruder Maximum Temperature

250°C

Heated Bed

Up to 100°C

Calibration

Auto-calibration

Nozzle Diameter (mm)

0.2mm, 0.3mm, 0.4mm

XYZ Accuracy

XY: 14 microns, Z: 0.6 microns

Filament

PLA, ABS, PVA, PET, ASA, Nylon, HIPS, TPU, thermochrome

Printing Temperature

Max: 250°C

Weight

20 kg

Dimensions

530 x 555 x 480 mm

Step

Silent XY stepper drivers - reducing motor noise by 50%

Slicing Software

Voxelizer, Simplify3D, Cura, Slic3r

Resolution/Precision

50-400 microns

User Interface

LCD colour touchscreen

Connectivity

USB and LAN (access to Wi-Fi after plugging to router) Standalone printing supported via panel + internal SD card