Artec Studio 16 Professional
Powerful software from Artec. The new upgrades make it even easier to achieve highly detailed, photorealistic 3D scans by combining your 3D mesh with photos from your phone or camera. Artec Studio 16 allows you to collaborate with other users on Artec Cloud; share data, work collaboratively or remotely from any desktop computer. One click integration with Solidworks quickly imports your meshes and CAD objects ready for quality inspection. Artec Studio 16 gives every user the ability to produce high quality, high accuracy, colour-true 3D scans.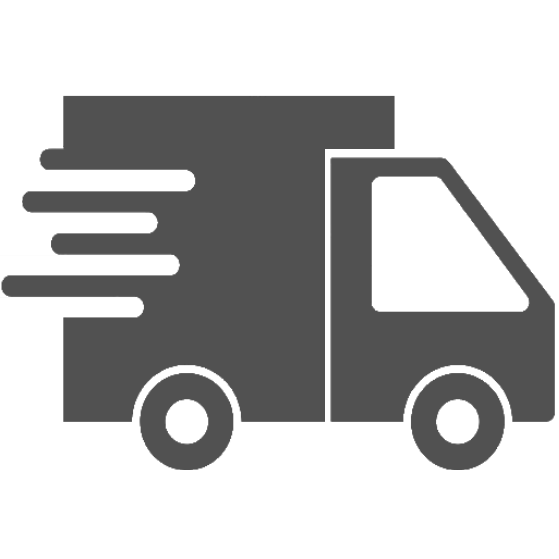 Free Shipping on orders over £75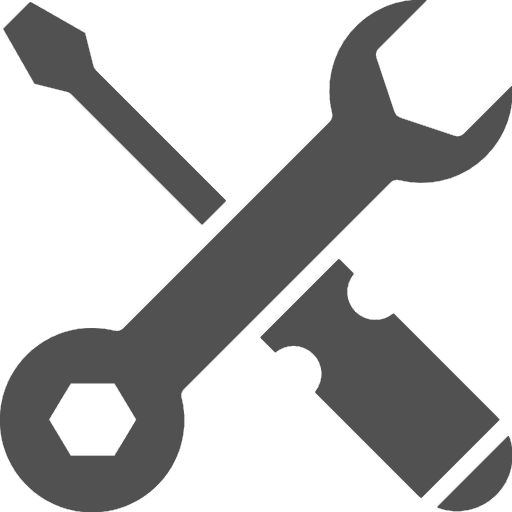 Free lifetime remote support on all products

Artec Studio 16
Powerful software for professional 3D scanning & data processing.
---
Easy 3D Scanning with High Precision Results.
---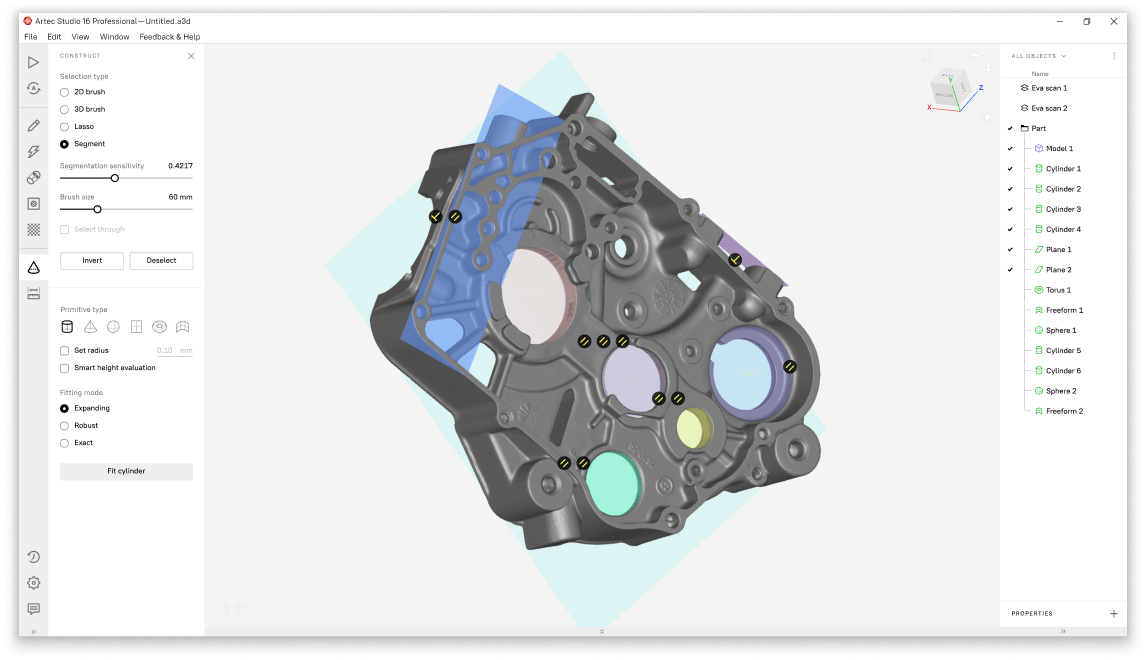 High Precision- Artec Studio will never compromise on precision. Choose Autopilot for ease of use or manual mode for full control and flexibility.
Time Saving Quality Inspection- Fast measurements and mesh to CAD analysis in Artec Studio. Fully integrated with Geomagic Control X for advance inspection in the Artec Studio interface.
Scan-to-CAD- Fit primitives to your 3D model to accelerate your engineering. Directly export STEP files to Solidworks or complex meshes to Design X or Geomagic for Solidworks.
The Colour You Seek- Artec Studio hosts a range of CGI tools including full colour 3D scan data, texturizing via photogrammetry, auto glare removal to create replicas of 3D models with perfect geometry and colour representation.
HD Mode- Achieve incredible high resolution scans with Artec Studio's AI neural network in HD mode. For users scanning with Artec Eva or Leo.
Create & Process Huge Datasets- Software powerful enough you can work with datasets of up to 500 million polygons. Artec Studio excels at scanning large objects and creating 3D models in maximum resolution.
Easy To Learn- Artec Studio is designed to be intuitive to operate and learn. Less time learning more time scanning.
Solidworks Integration- An officially recognised partner product of Artec Studio. With just on click your meshes and CAD objects are exported into Solidworks.
---
Each annual update makes it feel like you are using a new scanner. More sophisticated, more intelligent.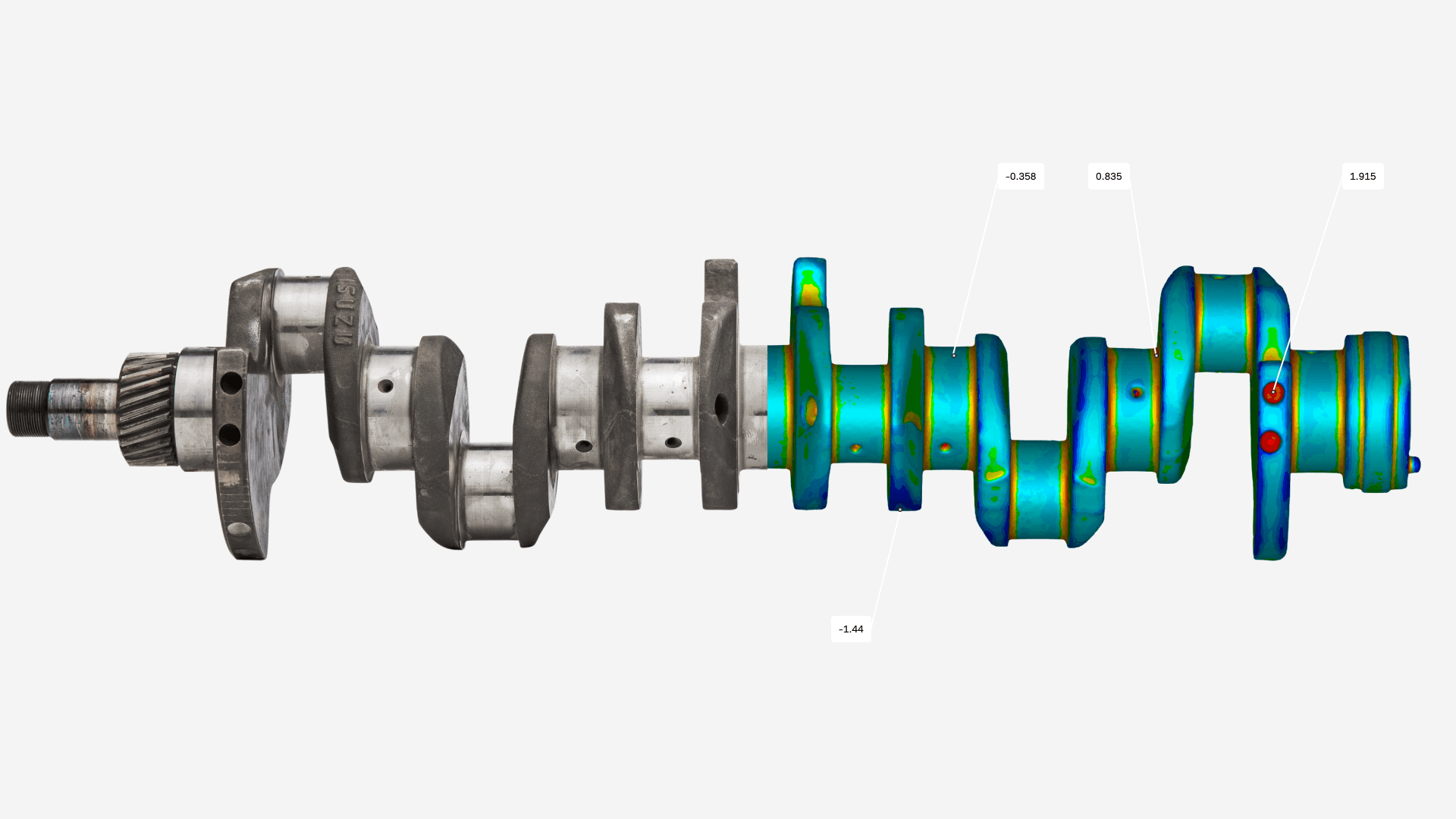 Annual updates to Artec Studio mean the possibilities are truly endless. The Artec yearly updates feature upgrades such as reducing processing times, and doubling resolution of Eva and Leo in HD mode.
---
Reverse Engineering with Scan-to-CAD
The Artec studio has simplified the scan to CAD process with high speed alignment, primitive fitting and advance plane functionality for quick and excellent results. Export your scans and CAD objects to Solidworks in one click.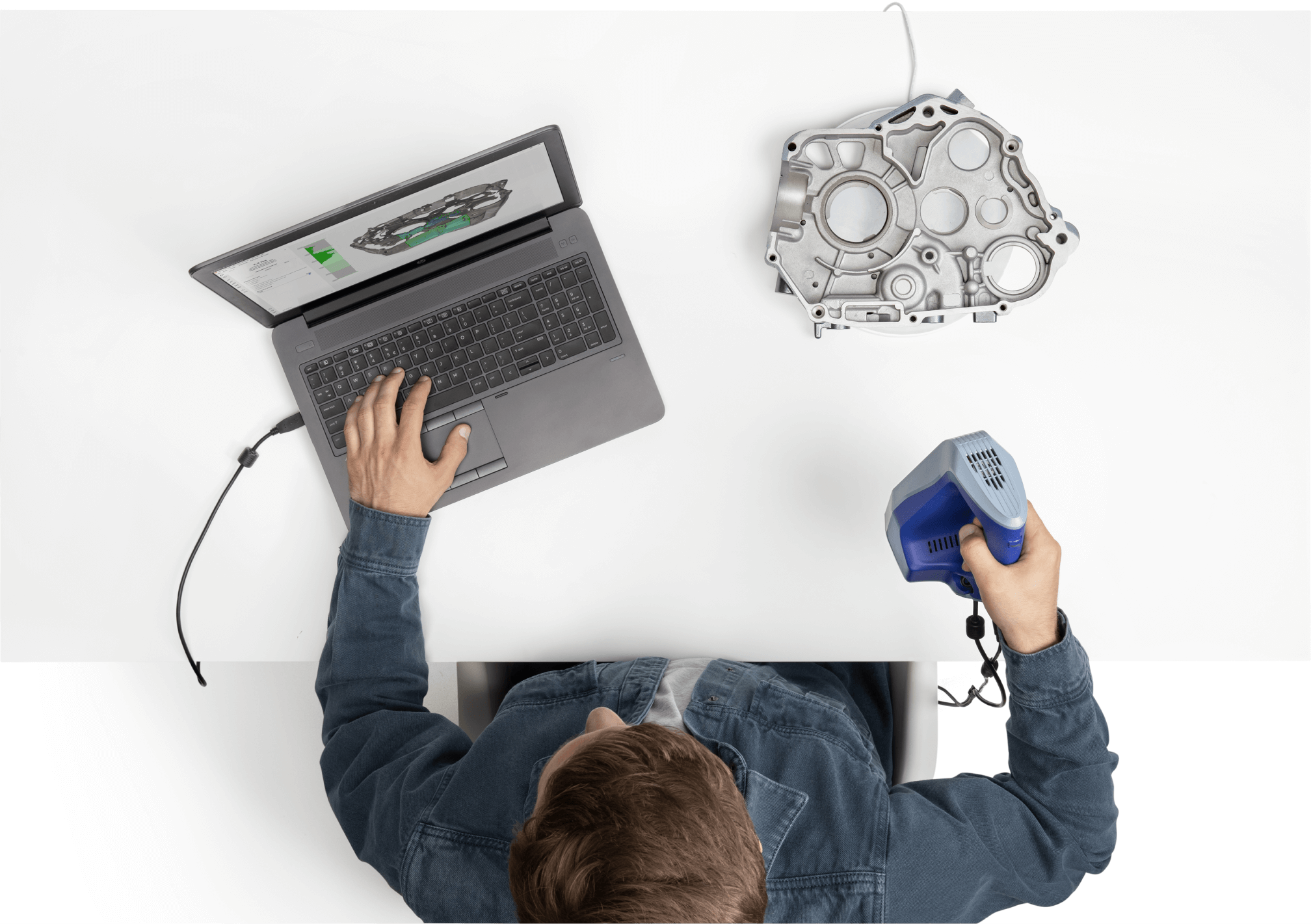 CAD Primitives- Save time and effort by performing reverse engineering operations in Artec studio. The full range of primitives including freeform fitting, you can move from fitting to constraining to CAD export in no time.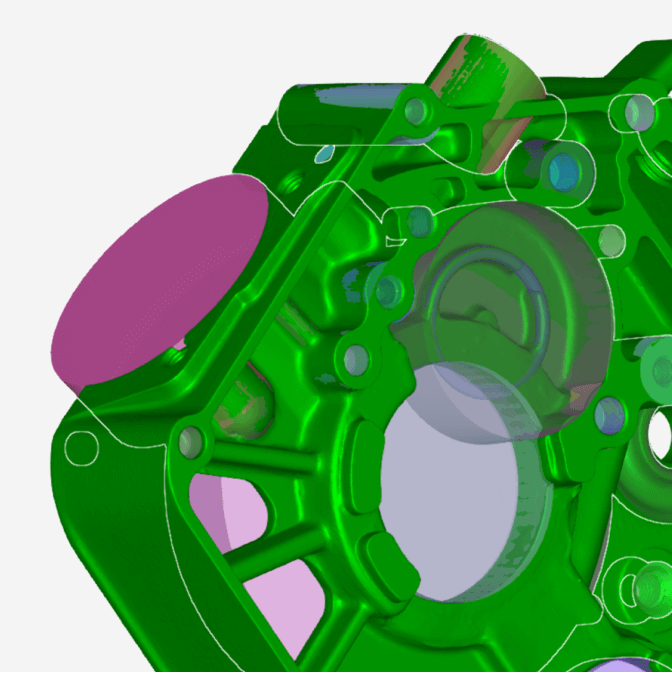 Integration with Solidworks- With Artec studio 16 you are only one click away from export to Solidworks.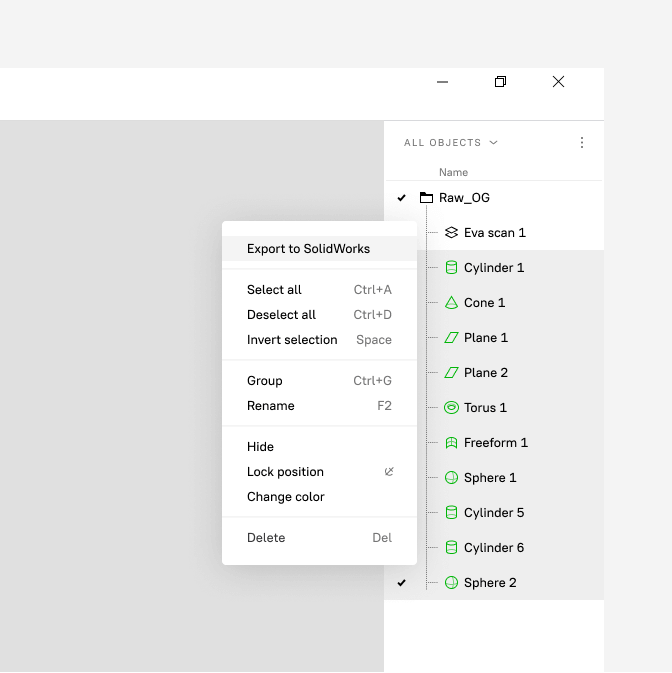 Tailored Freeform Primitives for Reverse Engineering- This tool makes it effortless to start reverse engineering complex parts by making custom-fitting primitives for curvilinear surfaces. Use the 3D brush or the new segment brush to designate the geometry you want to fit with a free form primitive.
Reverse Engineering Torus Shapes- Torus is another new shape on the menu. Use this for reverse engineering myriad ring-shaped objects in aerospace and automotive industries.
Ultraprecise Constraints- Artec Studio 16 now allows you to metrologically align primitives which allow for a more accurate CAD Model.
CAD Perfect Cutting Planes- Scale to bounding box for reverse engineering, comprehensive cutting planes are now only one click away. You can also offset cutting sections from exiting planes, via translation functionality.
The Segment brush- The segment brush works by analysing the full surface, computing all its characteristics to determine and select the exact shape without the need to do this manually.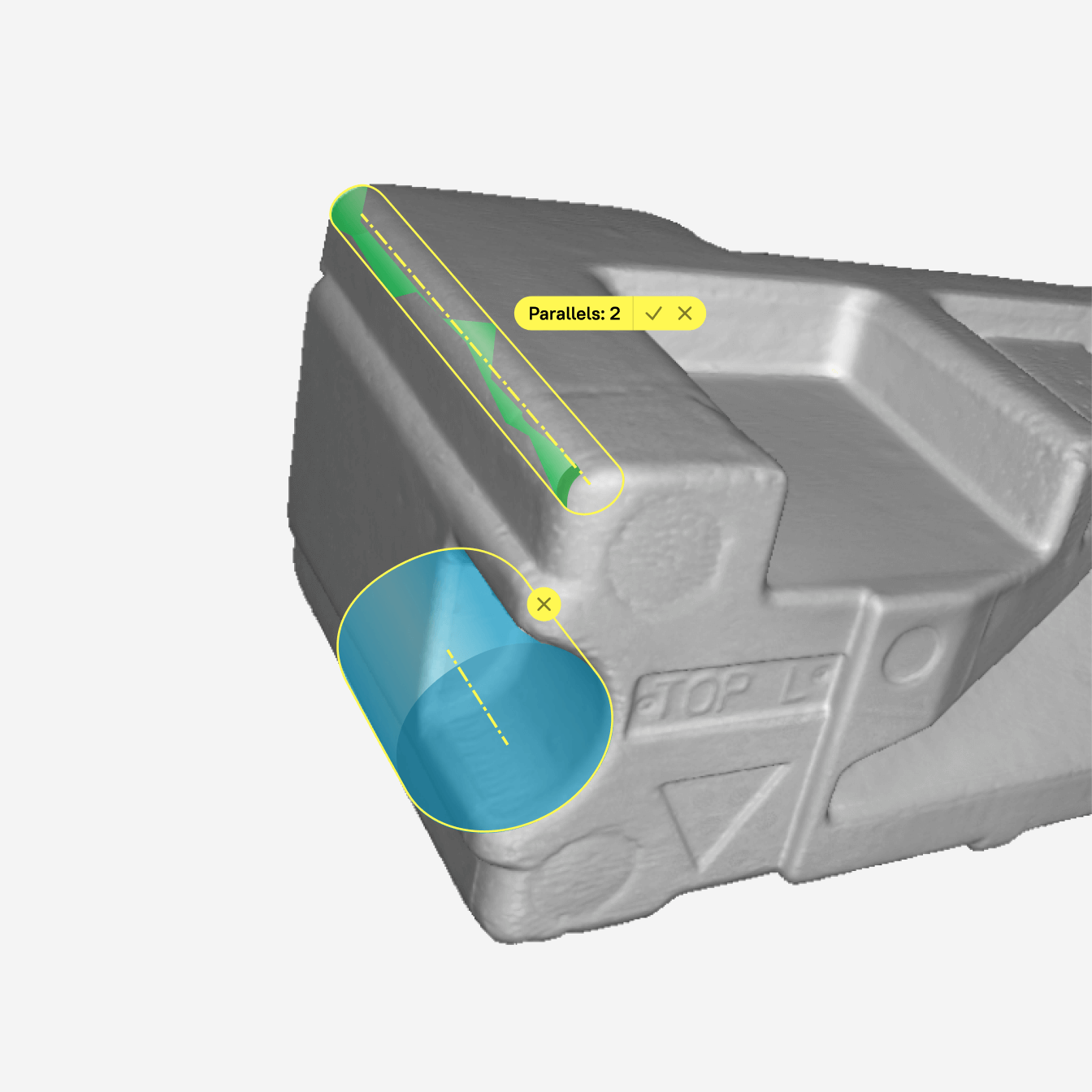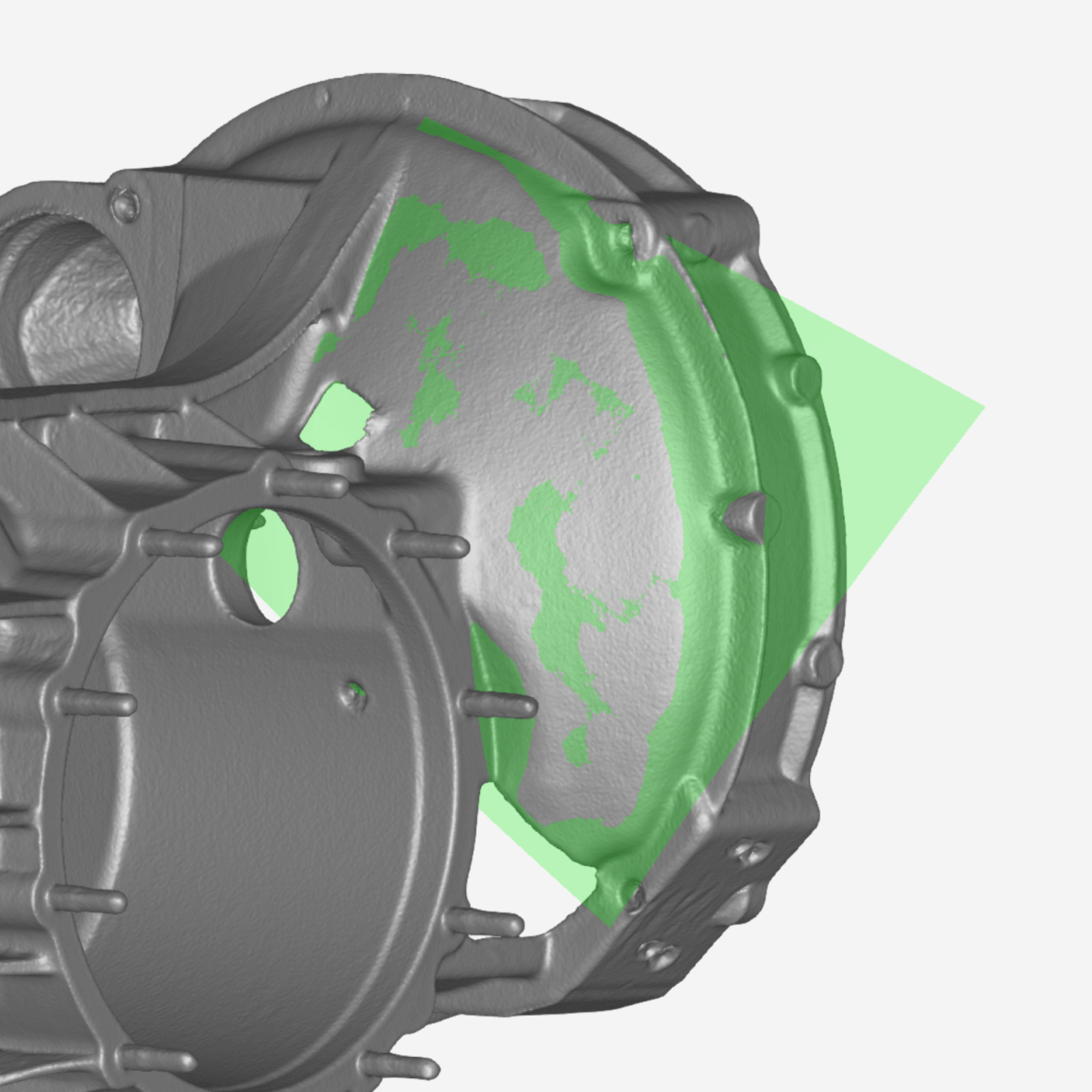 ---
Scan-to-CAD For Quality Inspection
For quality inspection, Artec studio offers the tools needed to streamline the pre-production, inline and final inspection workflows. Fast, precise measurements, accurate mesh-to-CAD alignment and mesh-to-mesh or mesh-to-CAD deviation maps.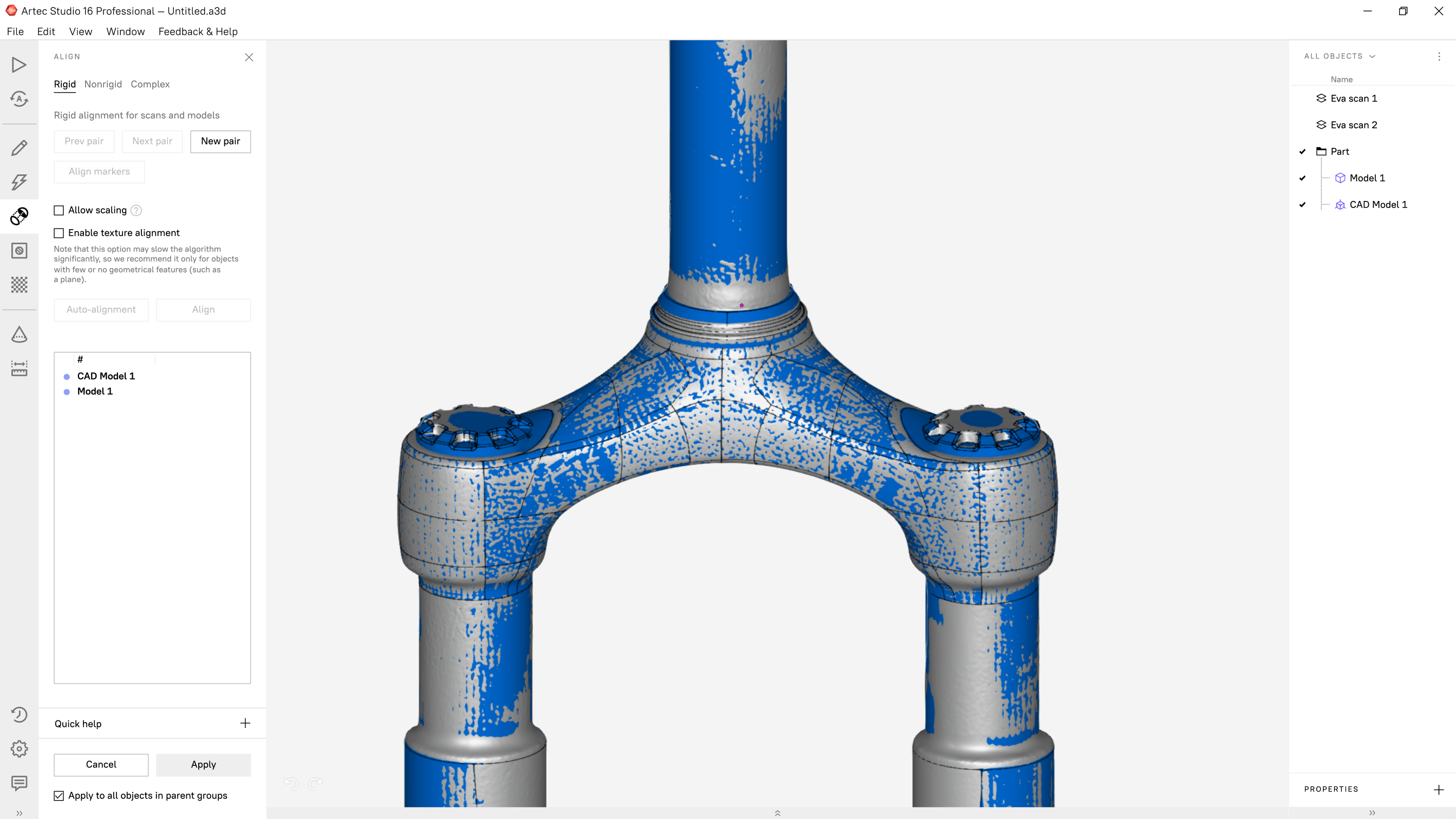 Mesh-to-CAD Comparison- Faster more streamlined workflow, import STEP, IGES or X_T CAD files and align your scan mesh to CAD models without exiting Artec studio.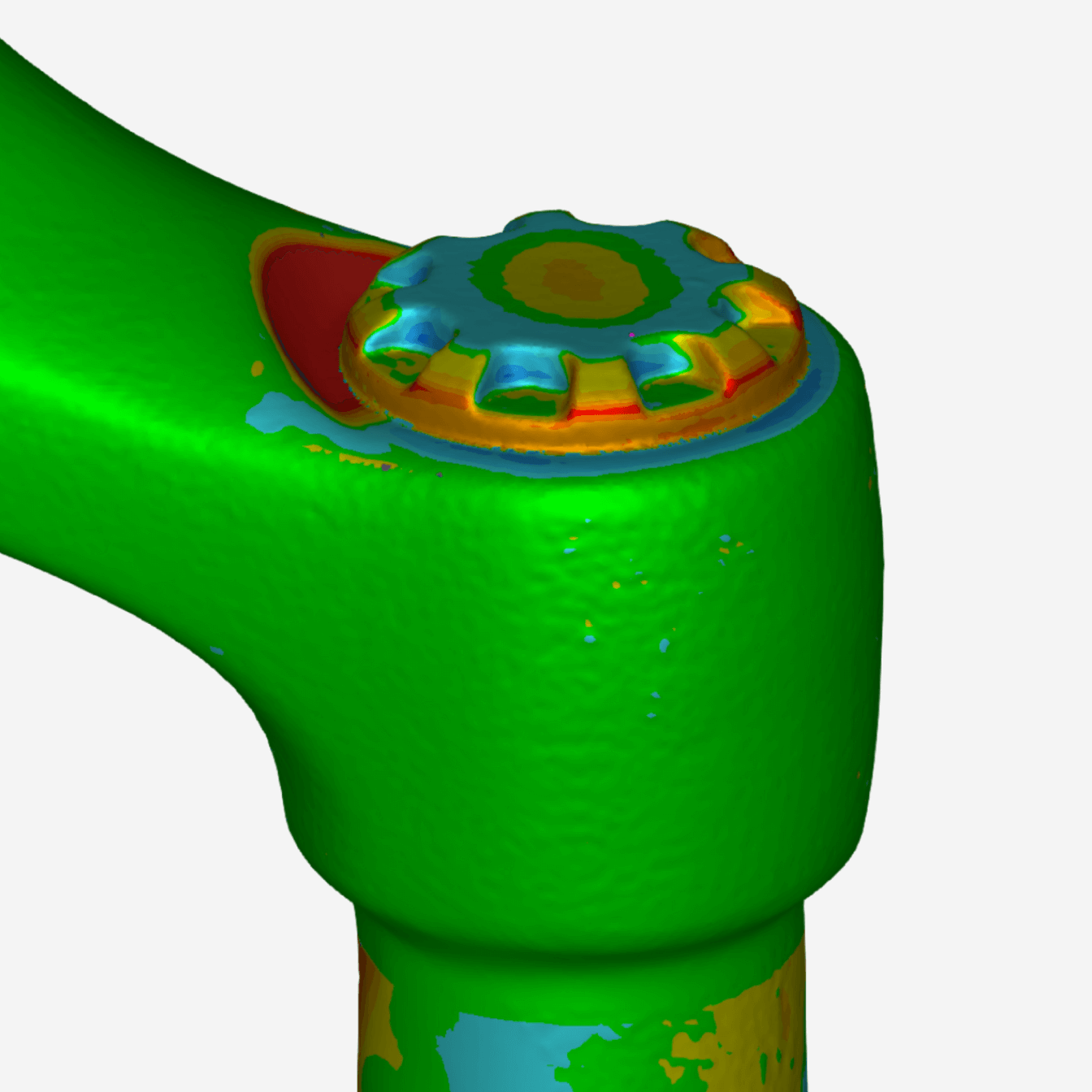 Control X Integration- Create custom reports with Artec Studio by choosing which objects you wish to inspect while Control X is running in the background.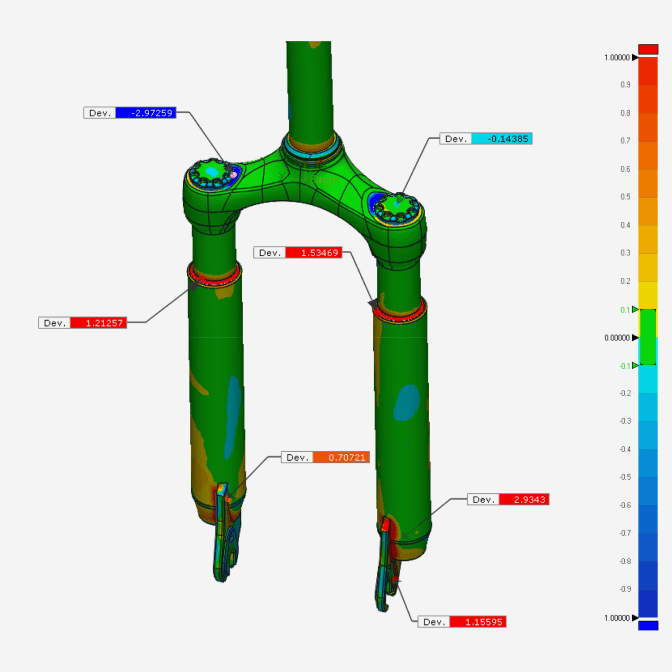 Control X Inspections- After you have finished scanning, select the mesh you want to inspect on the workspace panel and click 'Inspect in CX' You can then choose which Control X inspection templates to use. Your report is then generated behind the scenes.
Batch Inspection Reports- With Artec studio 16 you can inspect multiple meshes at once, this is a perfect feature for if you are producing batch or production runs of parts.
8X faster mesh to CAD Alignment for Quality Inspection- With just one click Artec Studio 16 aligns your mesh with other meshes or reference CAD models.
Accelerate Surface Distance Mapping- After aligning meshes with CAD you can inspect them via surface distance mapping which is now 70% faster than the previous Artec Studio software releases.
Accurate Quality Assurance & Inspections- Perfectly aligned CAD primitives are available, giving you metrological accuracy in your quality inspection workflow. Make micro precise comparisons between parts or objects you scan and their CAD models.
Rigorous Constraints- You can now force constraints between primitives with your choice of parallel, perpendicular, concentric etc. Simple select the two primitives you have just fitted then select the desired constraint.
Precise Point to Plane Measurements- Easily achieve target product quality standards by quickly measuring perpendicular distances from point to plane. Quickly calculate the precise thickness of select areas or accurately define various external dimensions of engineering items.
Advance Fitting Algorithms- Cross sections can be positioned more precisely by using the constructed/fitted planes as a baseline then offsetting. This allows you to calculate a cross section in any place.
---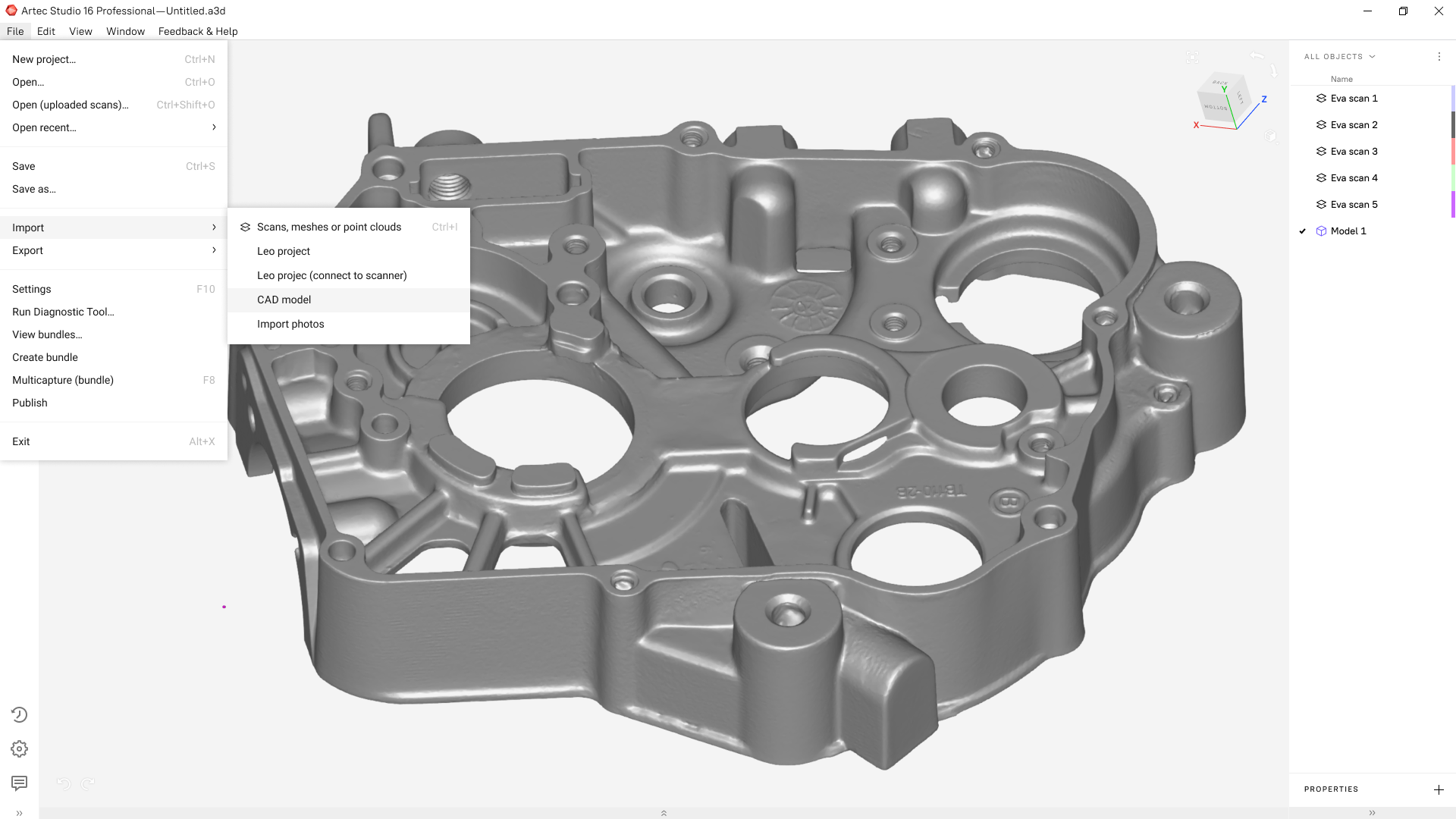 Load Solidworks models in Artec Studio 16 for direct comparison with your mesh.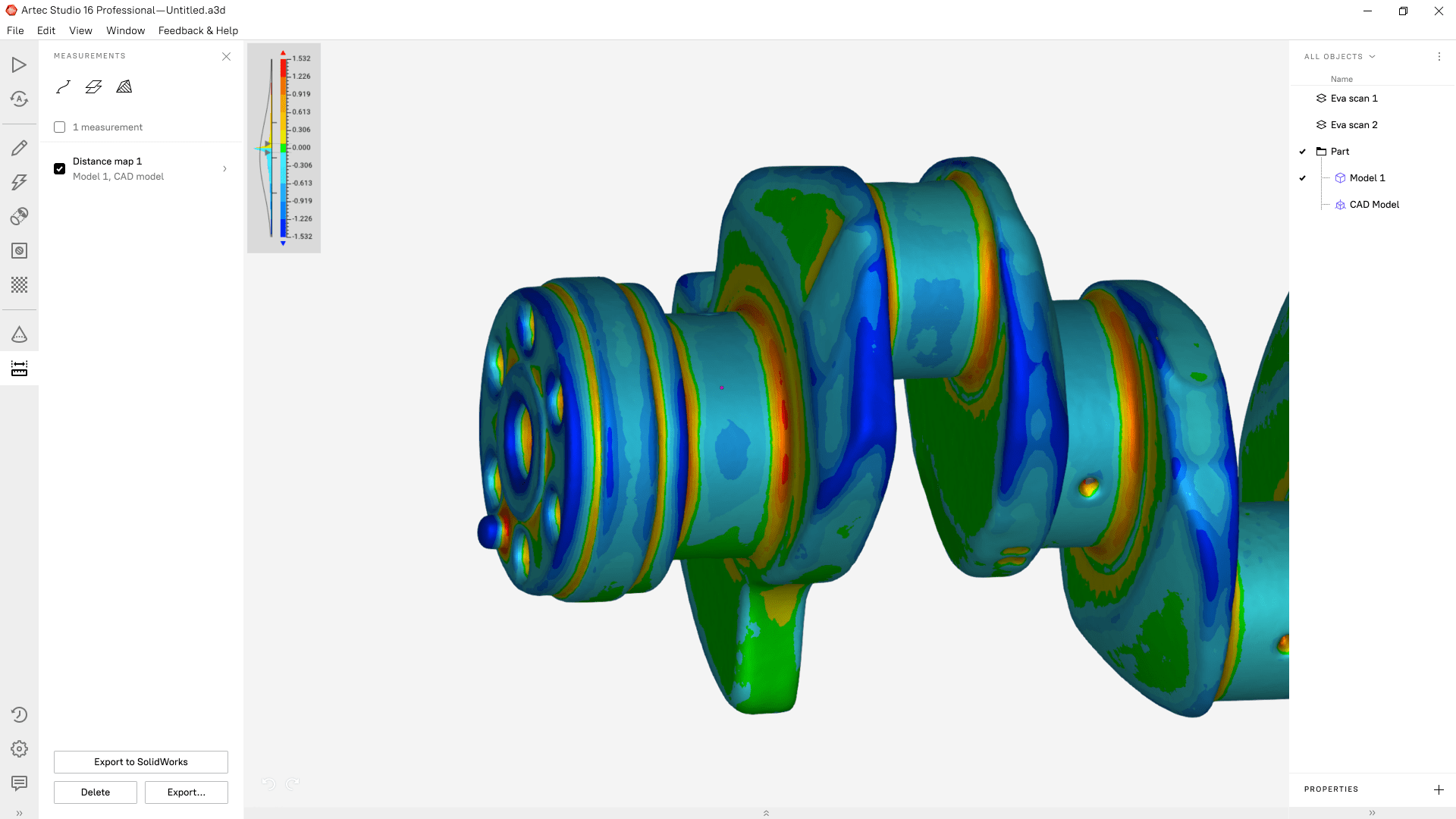 Fast surface distance map.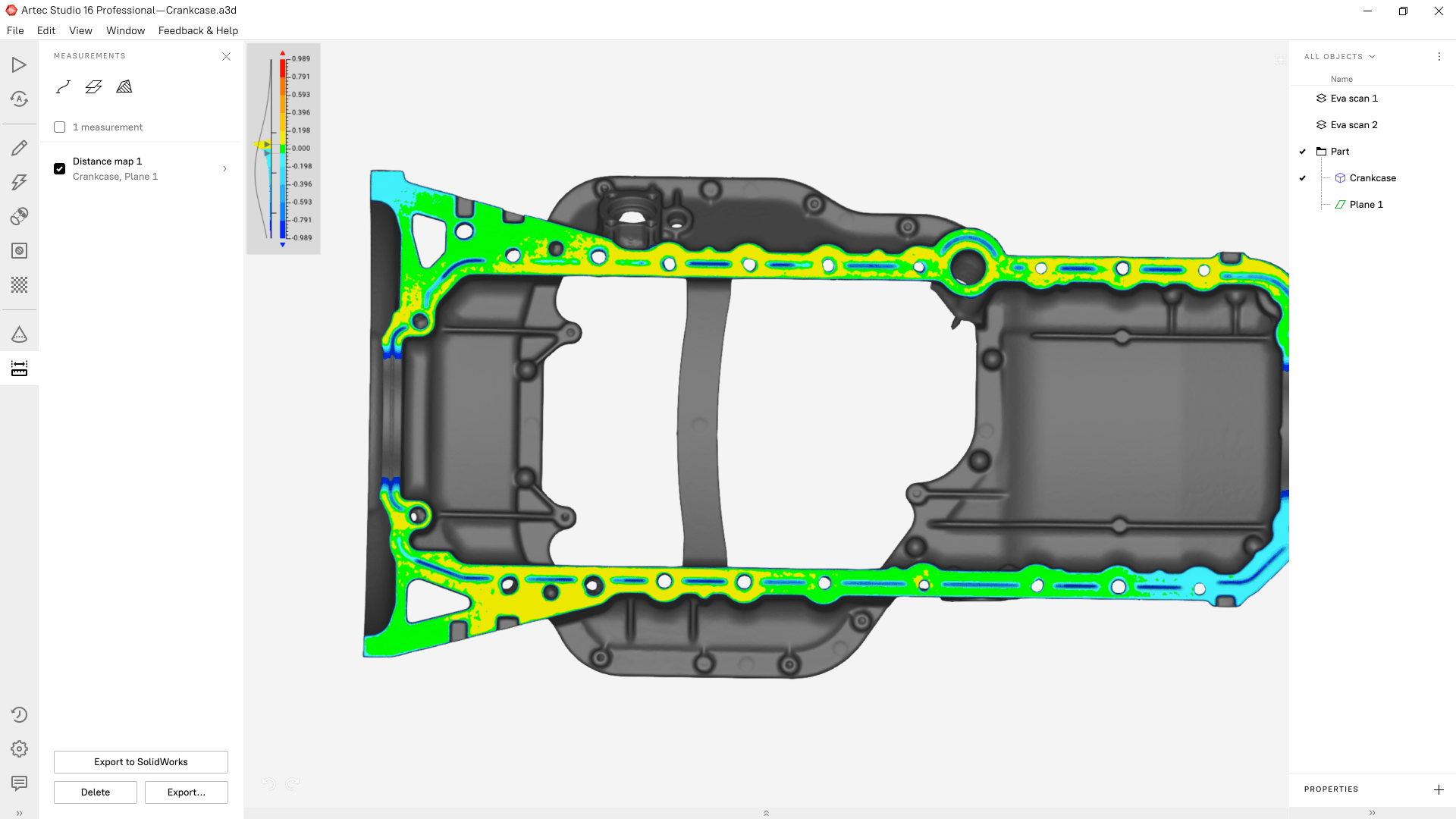 Primitives for accurate measurements.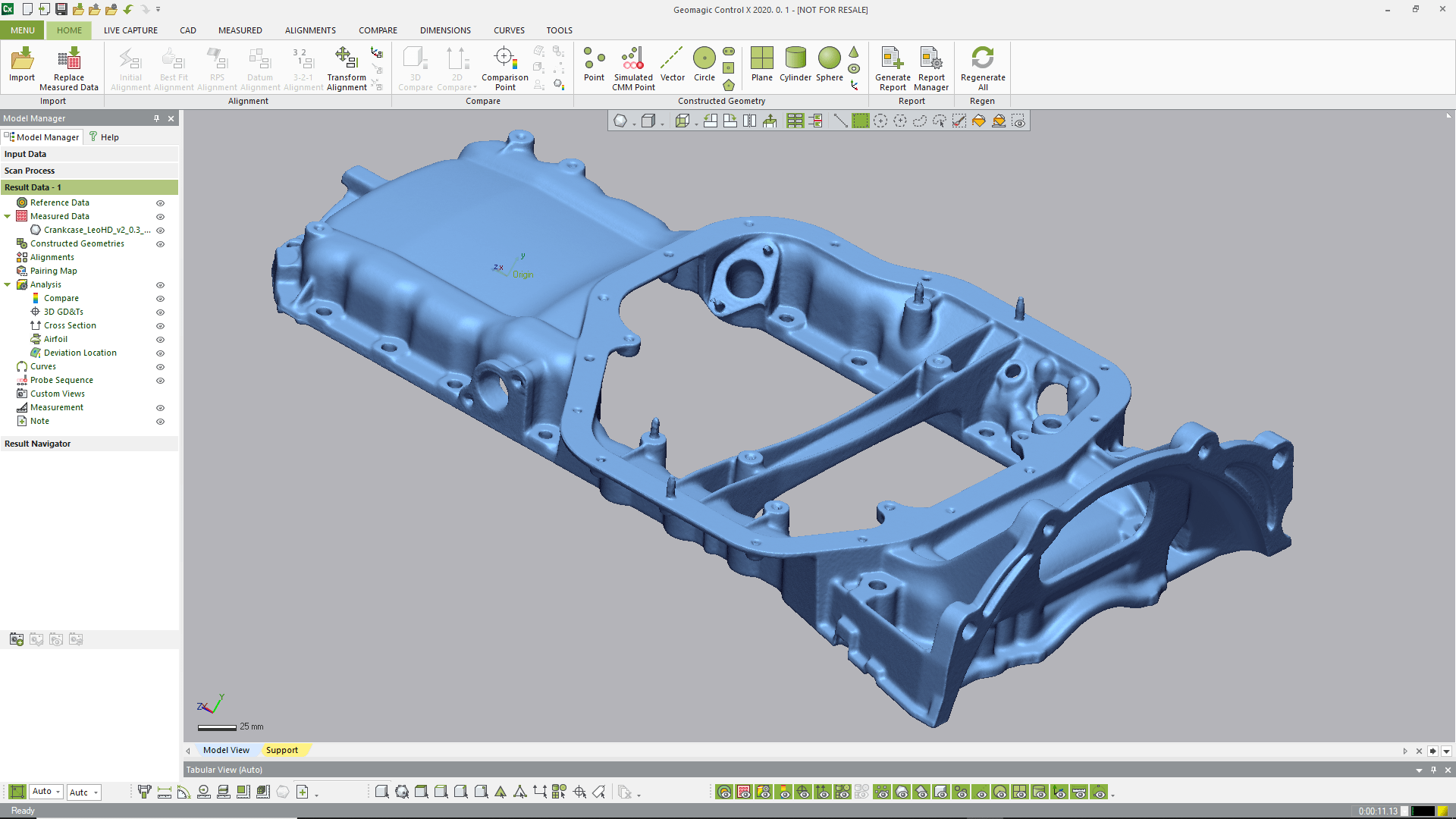 Advance quality inspection.
---
HD Mode
Artec studio operates in HD Mode easily. Improve your scanning with Leo and Eva to capture high resolution HD data for ultra sharp, clean, highly detailed scans. Reconstruct Eva and Leo HD projects at double the speed.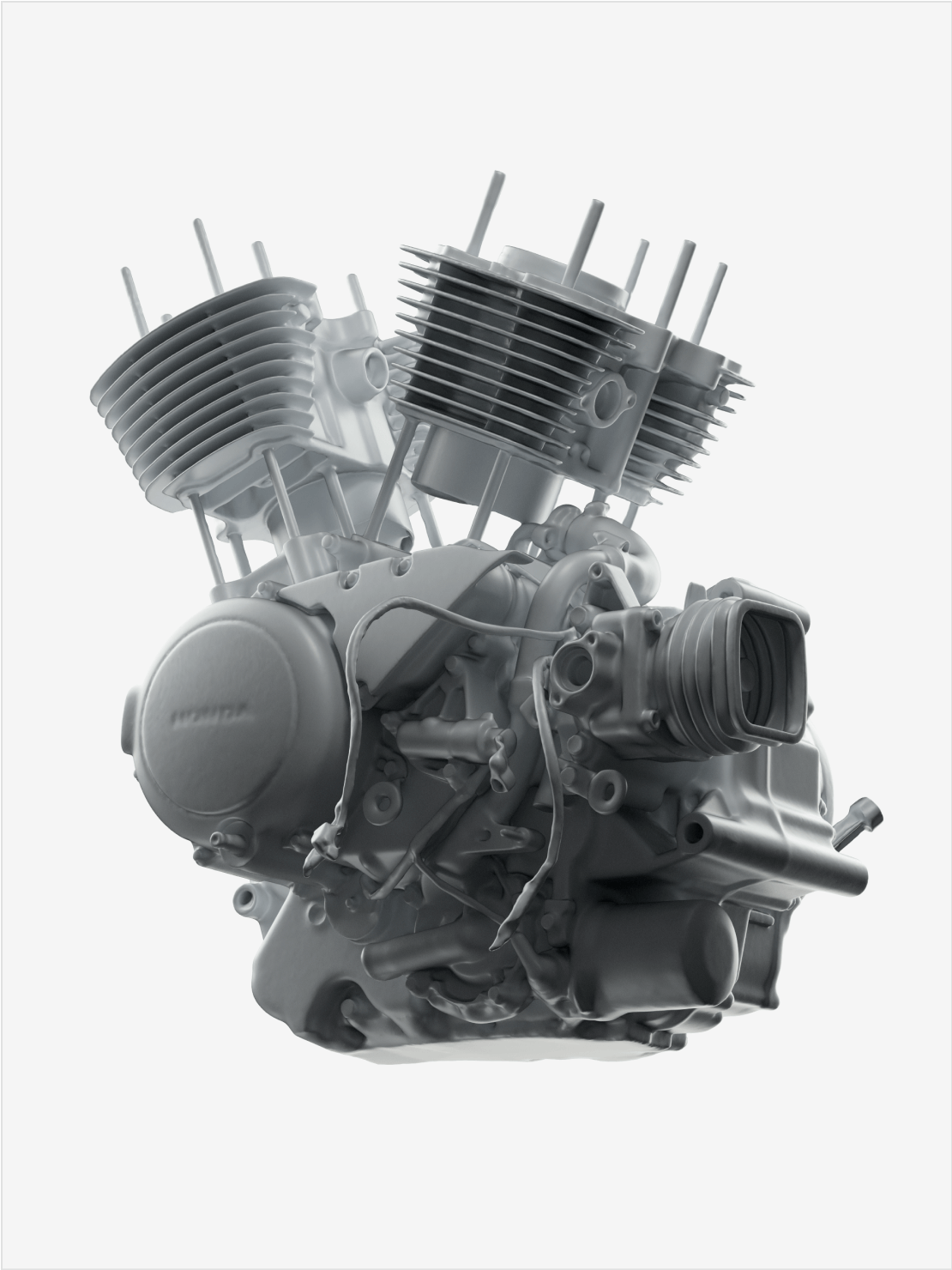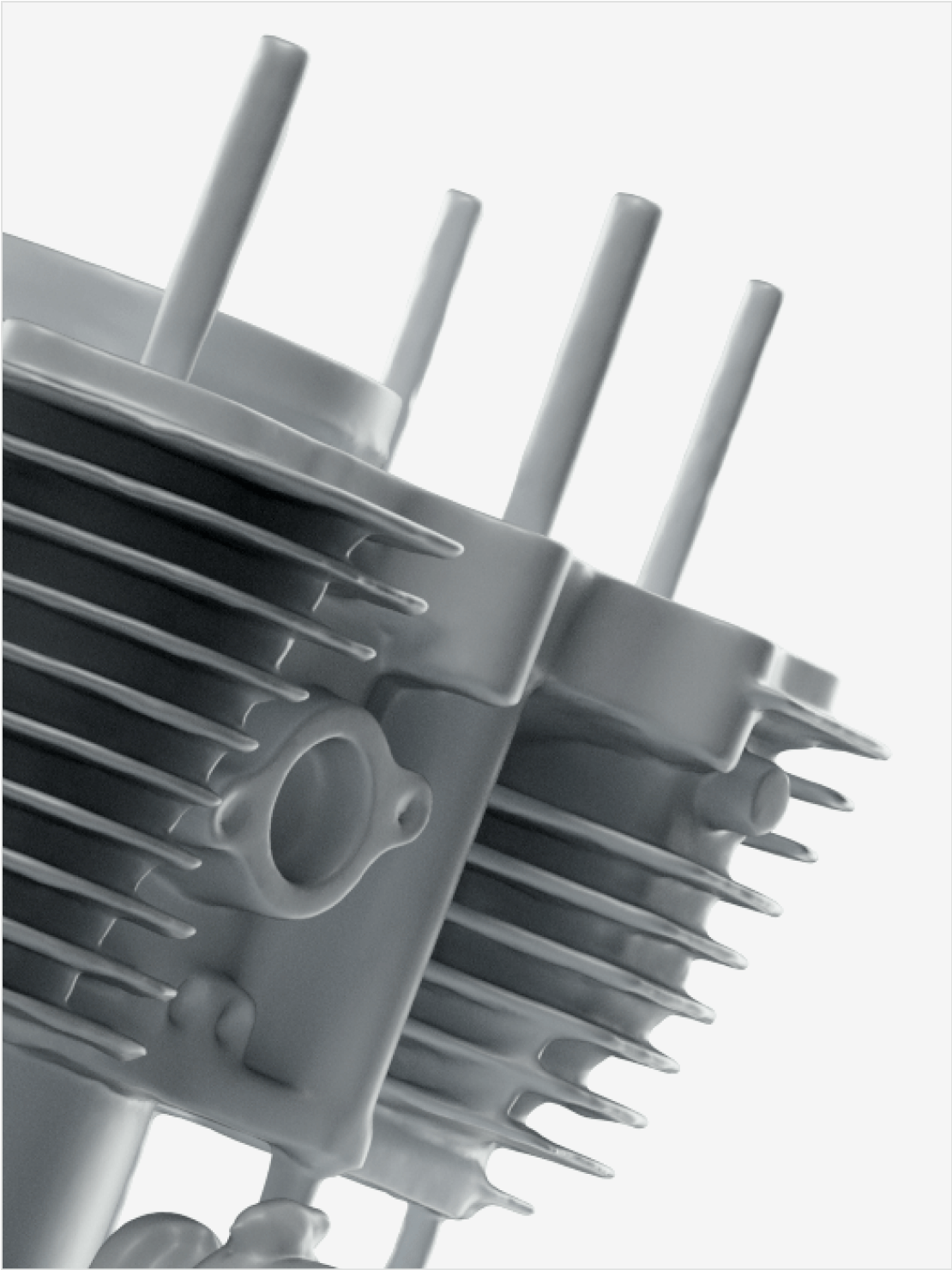 HD Reconstruction for Eva- Scanning with Eva in HD is now even faster and easier. Store raw scan data directly in your project and choose when and where to process it. Use with the Artec Cloud to move your raw scans to another computer for HD reconstruction.
Multiple Reconstruction for Optimal Results- Working with HD scan data captured with Eva or Leo you can now try different settings with multiple reconstructions at any time and as many times as you want. Get sharper results faster than before.
Sharper Than Ever- The new and improved AI-powered HD mode for Eva and Leo gives you constant results. Create sharp, detail rich 3D scans in ultra high resolution.
20% Smaller File Size- HD projects are now 20% smaller in size. You can now process HD data faster while storing and transferring files. The new encrypted file format allows you to store high definition data from Leo on your SD card. The HD raw data is saved on the SD card giving you faster access to when and where you need it. Export all your HD projects to the SD card then import into Artec Studio without having to stay connected to Leo.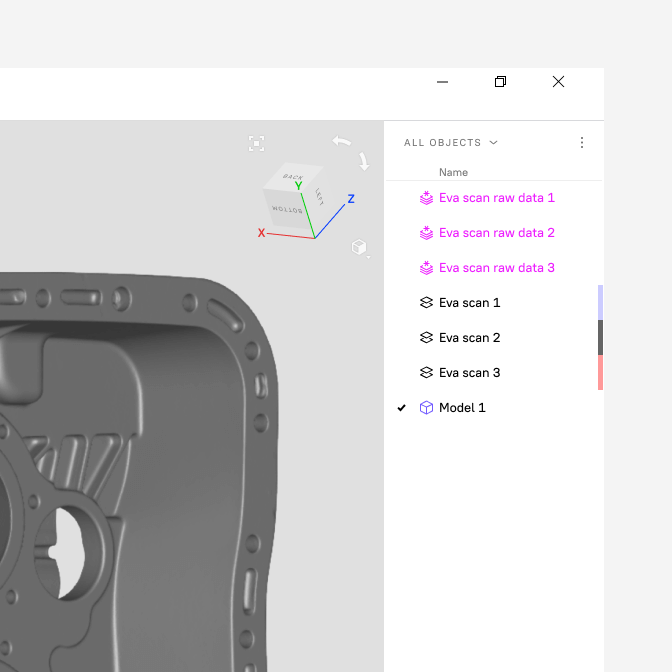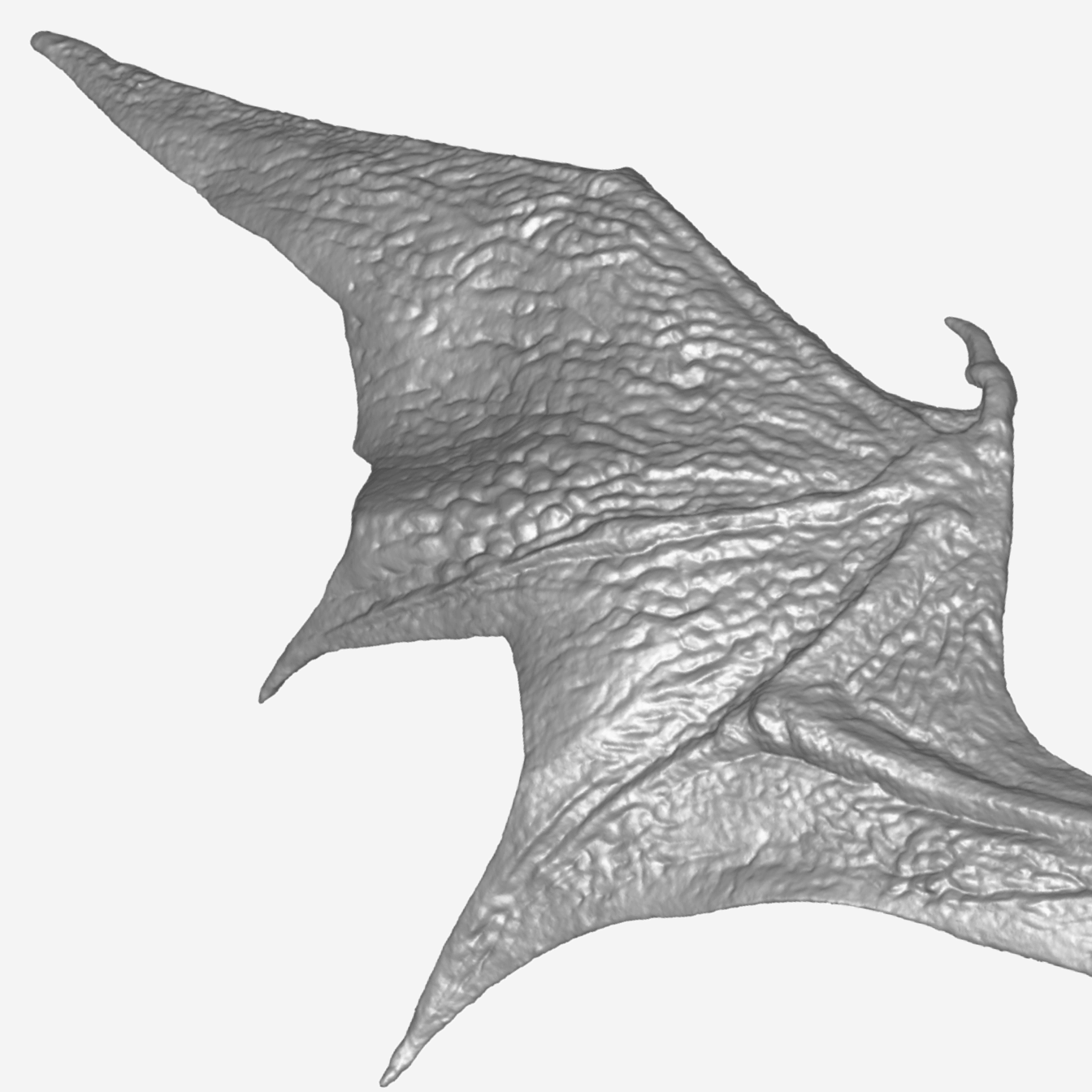 ---
Picture Perfect CGI with Photogrammetry & Scan Data
Create accurate, high resolution picture perfect 3D models ready for CGI, VR/AR and animation. Artec studio allows you to combine scan data and photo data in one place, ideal for best-quality texture and highly accurate geometry.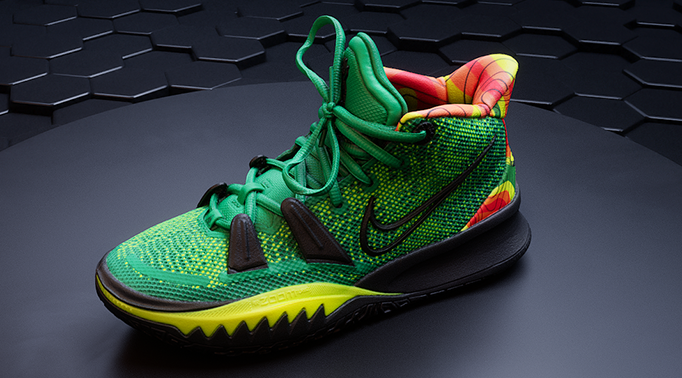 Colour & Geometry- Achieve the best quality mesh with the inclusion of full-colour 3D scan data. A combination of 3D scan data and photogrammetry means your 3D model will be as photorealistic and true to form as possible.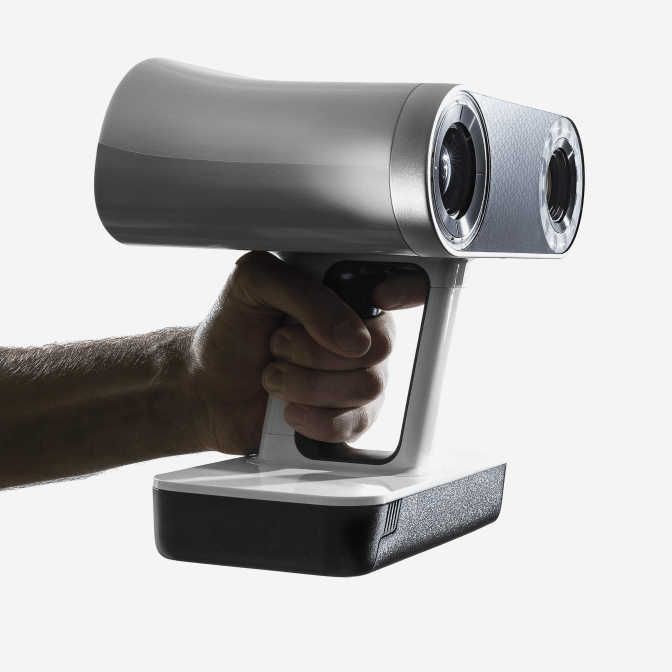 Personal or Professional- You can capture images from your mobile phone or a professional camera to make 3D models with photorealistic texture and highly accurate geometry.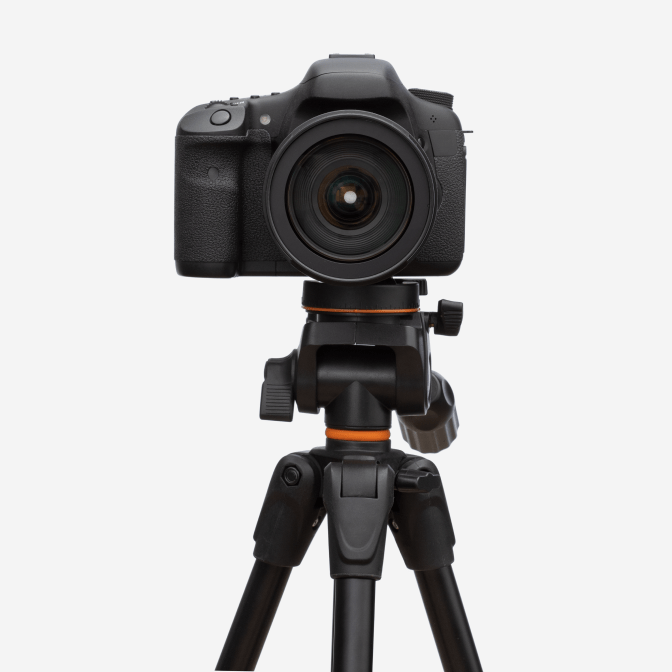 ---
Easy 3D Scanning in Artec Studio
Artec studio analyses the objects surface and automatically adjusts the sensitivity of the scanner to identify tricky areas for 3D scanning. You no longer have to be an experienced 3D scanning expert to scan objects that are black, shiny or as thin as human hair.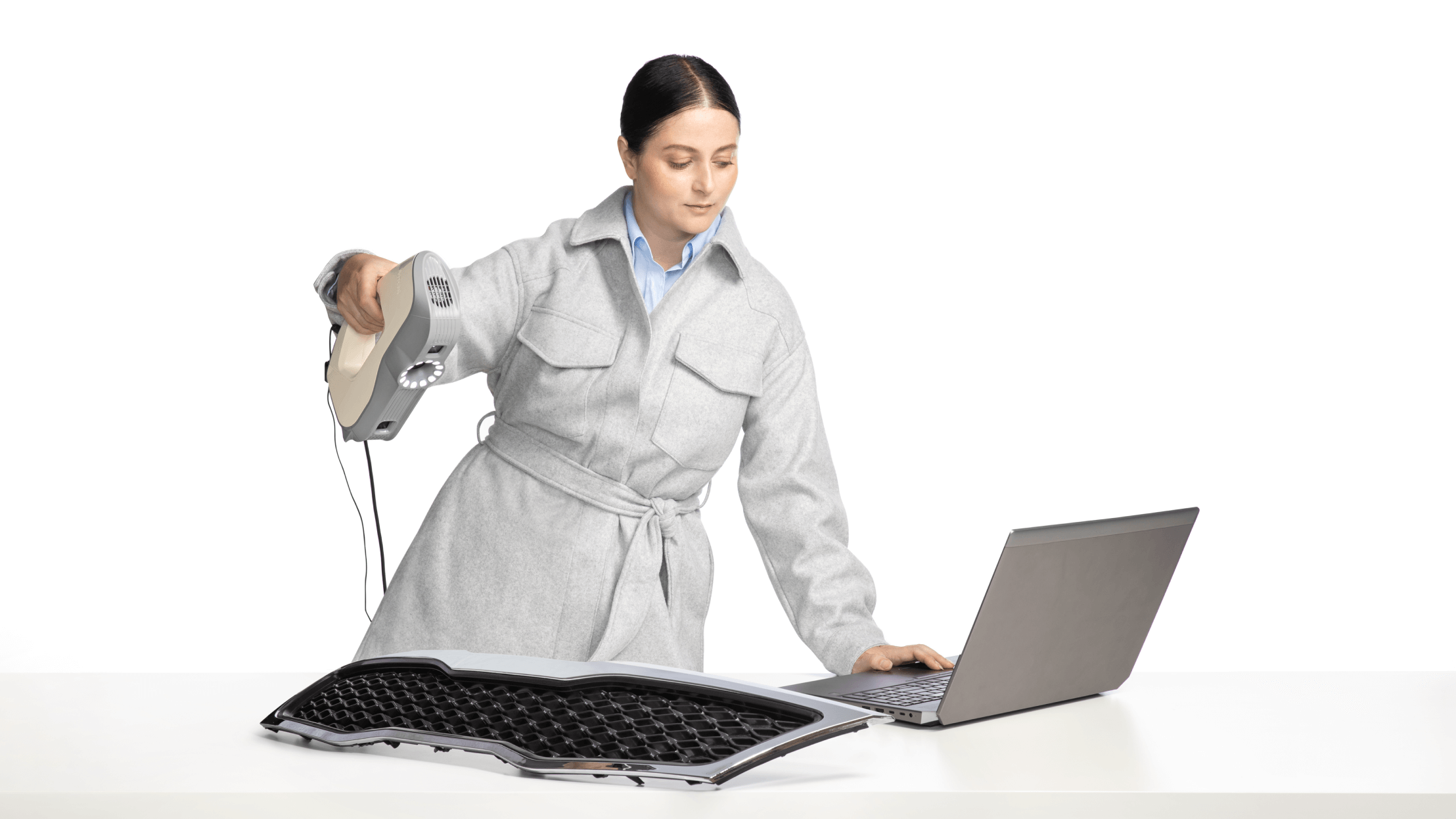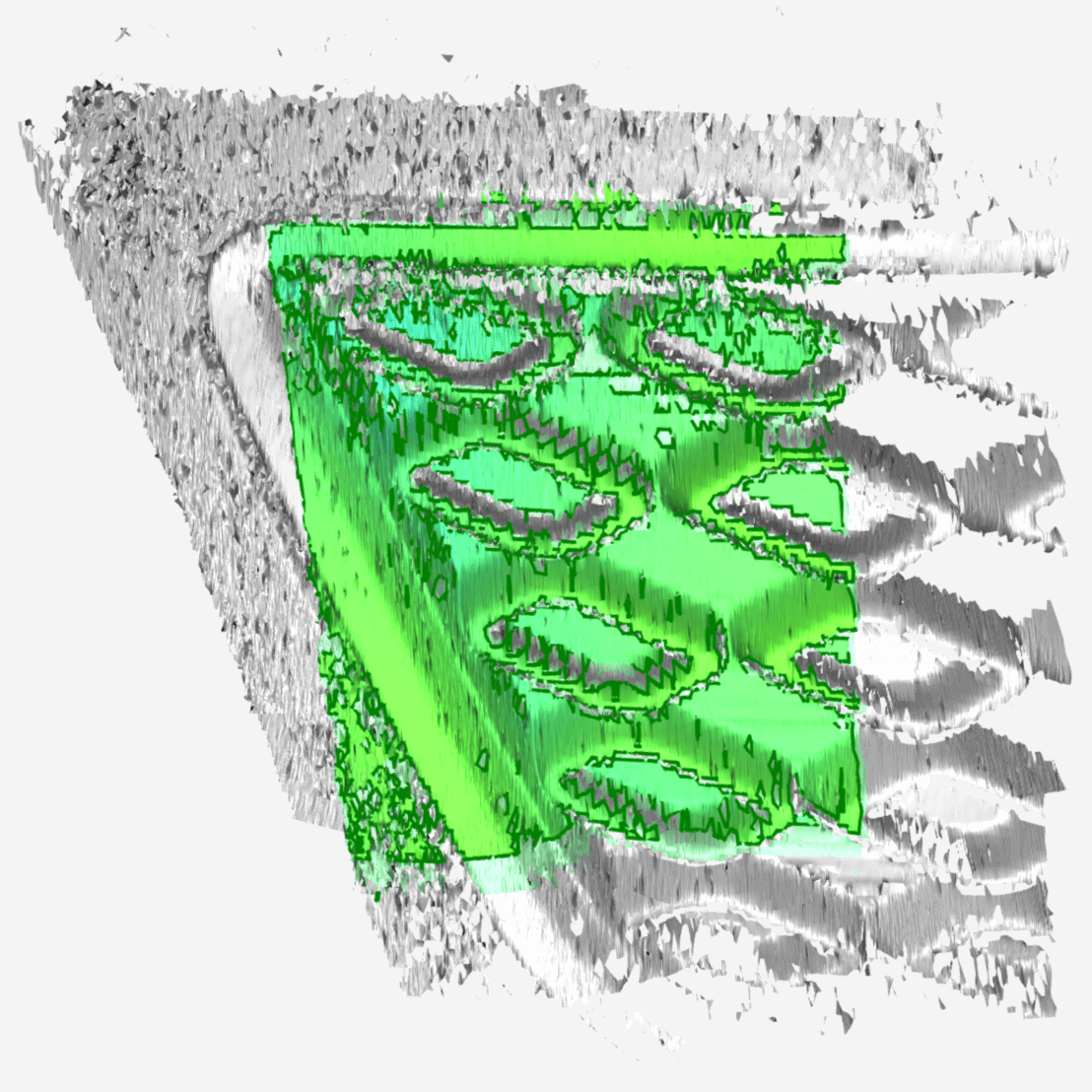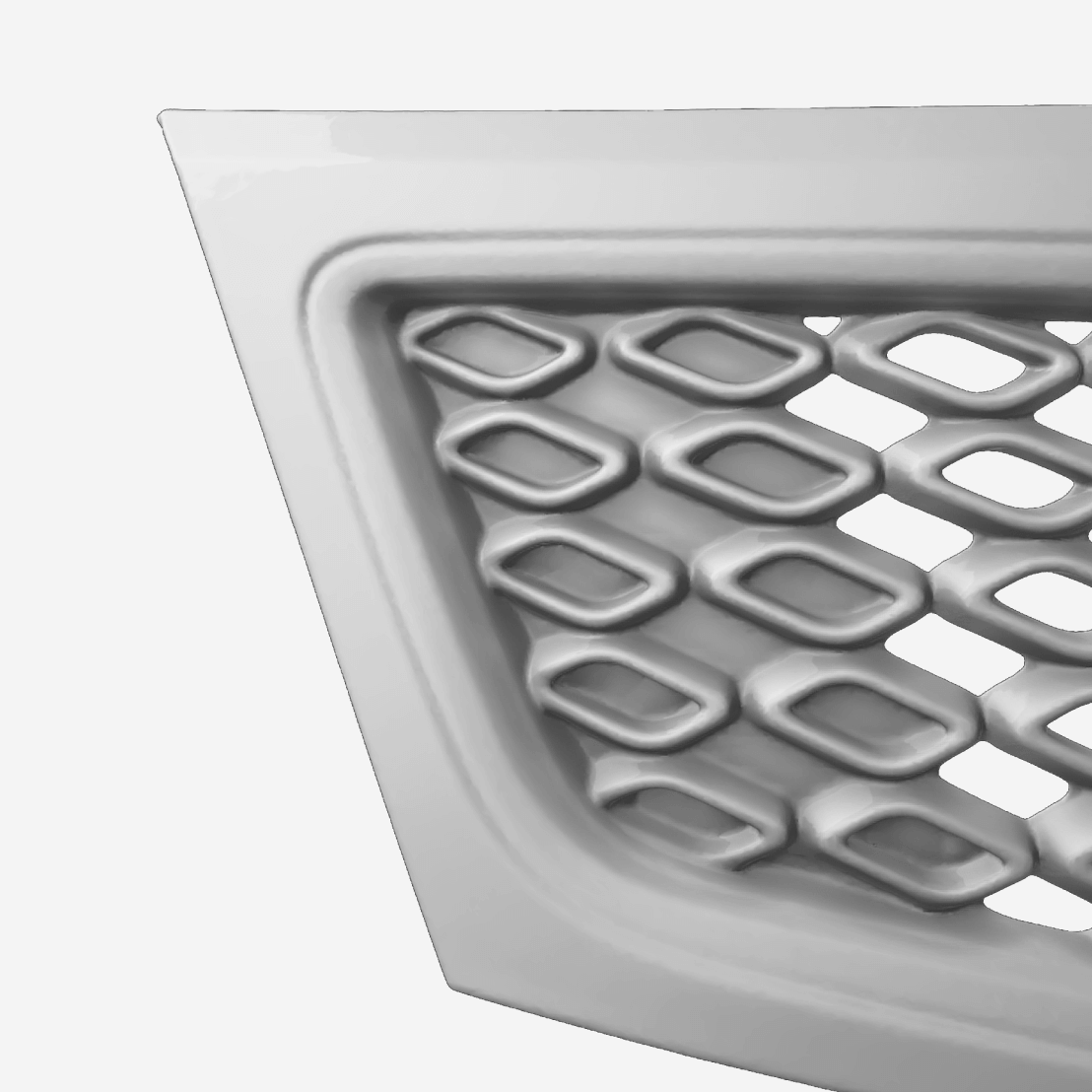 3D Radar- Artec Studio 16's 3D Radar mode will inform you if you are holding the scanner at an optimal distance. It will guide you through colours, optimal distance real time scan data will appear green, if you are too close it will show red and blue if you are too far away.
---
Artec Cloud
Upload your 3D data from Artec studio to Artec cloud for remote working, team collaboration or training sessions. This new function allows users to upload, share, leave comments, send photos and have full conversations.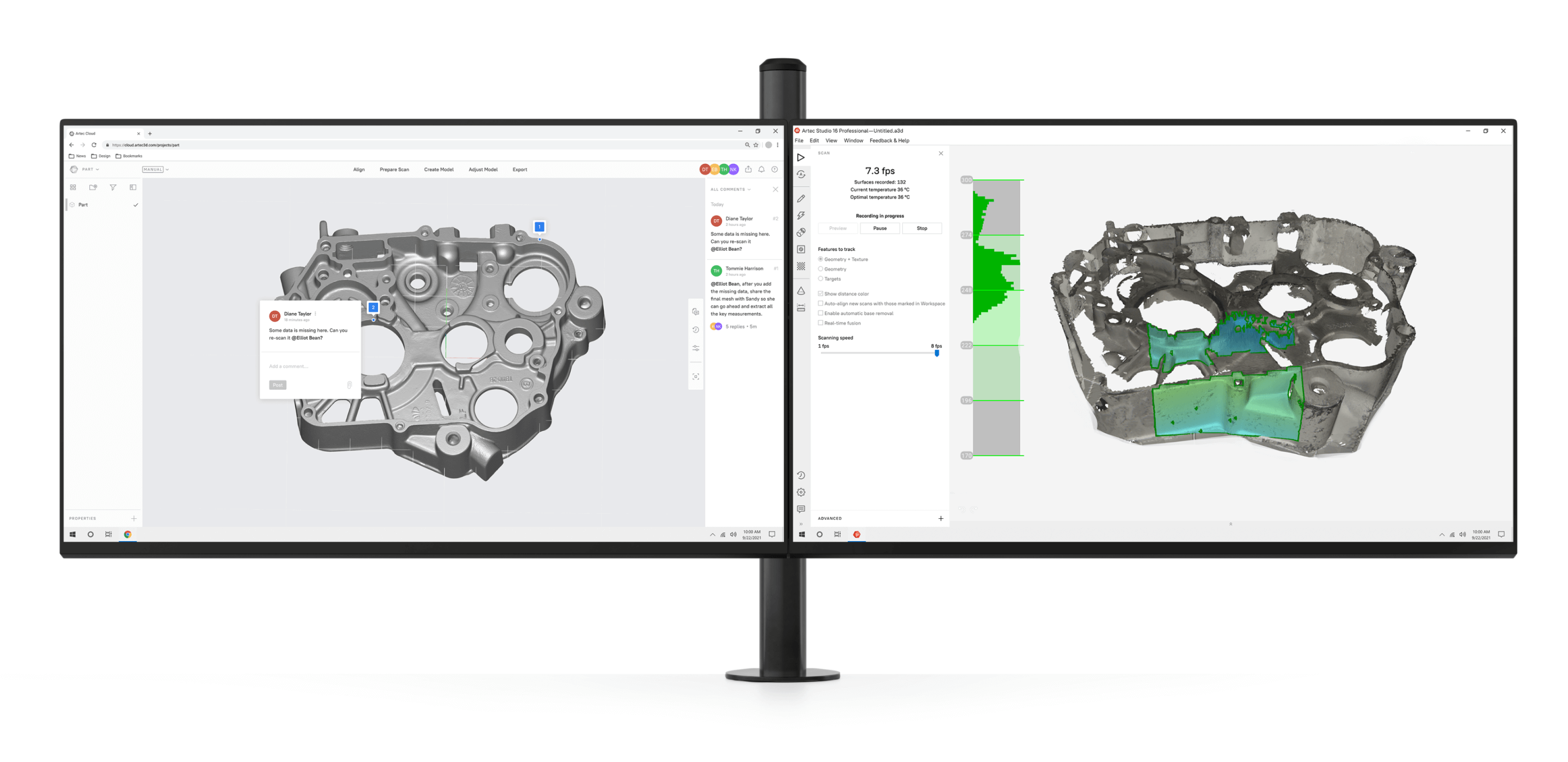 Accessibility- Features designed to make the software more accessible to you. Artec studio is available in 15 different languages- Chinese Simplified, Chinese Traditional, Croatian, Czech, English, French, German, Italian, Japanese, Korean, Polish, Portuguese, Russian, Spanish, and Turkish.
Hassel Free Export- Export your data to any industry leading reverse engineering or 3D CAD software. Mesh: OBJ, PLY, WRL, STL, AOP, ASC, Disney PTEX, E57, XYZRGB Point cloud (Artec Ray only): PTX, BTX, XYZ Measurements: CSV, DXF, XML CAD primitives: STEP, IGES, X_T
---
---
For further information and advice on how Artec 3D Scanners & Software can benefit your business, please do not hesitate to get in touch with one of our advisors by calling the telephone number at the top of the page, or by clicking the button below and requesting a call-back: