Tilbage

3D Printere

SLA 3D Printers

Bioprinters

3D Scannere

3D Scanners By Application

Forbrugsvarer

Resin By Brand

Filament By Brand

Filament By Material

SLS Powder by Brand

Ler til LDM

Reservedele og tilbehør

Software

Service

Our services for 3D Printing, Scanning, Designing and more...

Large-scale Continuous Carbon Fibre manufacturing service.

Udsalg

View our currently discounted items.

View ex-demo and used products which have been reconditioned by our engineers.
EnvisionTEC Envision One cDLM HT
The Envision One cDLM HT (High Temperature) by EnvisionTEC is an upgraded version of the innovative and popular Envision One range, featuring a high accuracy infrared heating system for the resin in the material tray and a heated platform, this addition to the range is capable of printing the new generation of advanced additive manufacturing resins.

The Envision One cDLM HT (High Temperature) is not only the largest desktop 3D printer in the cDLM range but is also considered to be the most advanced. It is the only 3D printer to be able to produce a commercial Continuous Digital Light Manufacturing (cDLM) system which can process and 3D print a new generation of 3D printing resins for guaranteed end-use quality parts. In addition, EnvisionTEC's sophisticated build data monitoring and optimisation software ensures reliable, high quality results.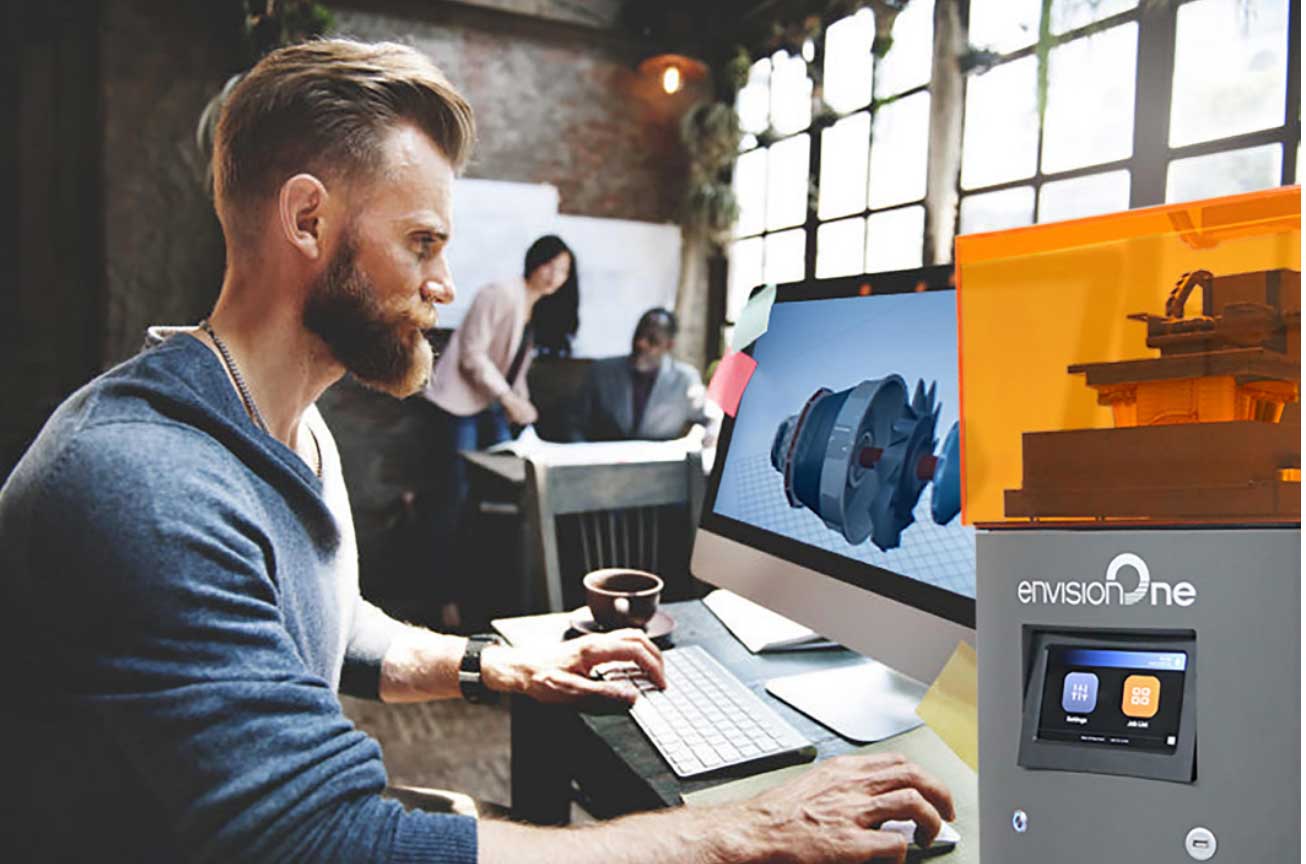 System Properties
Zero separation forces
Layerless technology delivers super smooth models
Domeless technology delivers the highest accuracy in Z
Closed loop temperature controller
75% less supports compared to regular DLP Printers
High-resolution industrial projector with UV glass
LED light source at 385nm wavelength for higher accuracy on clear parts and crisper details across all parts
Build envelope

180 x 101 x 175 mm

XL version also available

*Contact us for details*


180 x 101 x 330 mm

Build speed

Up to 120 mm/hour, material dependent

Native XY resolution

93 µm

Build platform

temperature

Adjustable from room temperature to 100°C

Material Tray Resin

Temperature

Adjustable from room temperature to 75°C

Data handling

STL

Warranty

1 year back to factory included
---
For further information and advice on how EnvisionTEC 3D printers and resins can benefit your business, please do not hesitate to get in touch with one of our advisors by calling the telephone number at the top of the page, or by clicking the button below and requesting a call-back:
Produktinformation
Printing Technology

DLP

Compatible materials

E-RE90, Loctite E-3955 FST HH, E-RE70, E-3172, E-IND147, E-RE30, E-Guide Soft, E-Tough Flex

Operating Voltage

110/220 VAC, 50/60 HZ 5A

Product Dimensions

15.4 x 16.93 x 25.02 in. (39.1 x 43 x 63.6 cm)

Product Weight

70 lbs (32 kg)