Streamline your workflow and boost productivity with the B9 Model Cure from B9Creations. Featuring a high-intensity light output, and timer, alarm and memory functions, prints are cured faster and with repeatable results.
Key Features
Recommended cure time : Small models 2-3 minutes. Large models 5-10 depending upon thickness and size.
Includes glass vessel to cure models under water.
Digital timer display : Timer selection from 10 seconds to 9 minutes 50 seconds maximum.
3 memory settings allow for repeatable workflow.
Wide chamber, capable of curing several models at once.
Light-energy intensity over 40.0 mW/cm², much higher than competitors.
Compact, space-saving design.
Audible beeping notice when curing process is completed.
Safety switch functions to prevent light emission when door is open.
Typical LED life exceeds 50,000 hours which is equates to more than 60 years at 1 hours per day.
Expand your post-processing capabilities
Combine the B9 Model Cure with the B9Clean wash unit to further automate your post-processing and save your business time and money.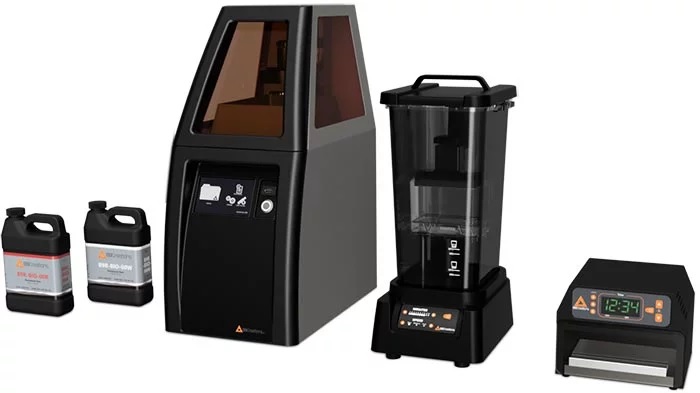 Data sheet
Internal Chamber Dimensions

12.7cm x 17cm x 7cm

Weight

3,3 Kg

Round Bowl Dimensions

10cm x 6.5cm

Wavelength

390-410 nm

Power Output

65 Watts

Light Source

UV LED

Power Input

100-220 VAC / 50-60 Hz