Tilbage

3D Printere

SLA 3D Printers

Bioprinters

3D Scannere

3D Scanners By Application

Forbrugsvarer

Resin By Brand

Filament By Brand

Filament By Material

SLS Powder by Brand

Ler til LDM

Reservedele og tilbehør

Software

Service

Our services for 3D Printing, Scanning, Designing and more...

Large-scale Continuous Carbon Fibre manufacturing service.

Udsalg

View our currently discounted items.

View ex-demo and used products which have been reconditioned by our engineers.
Apium CFR PEEK 450 1,75mm 500g
Carbon Fiber Reinforced PEEK from Apium, is a material formulated with Carbon Fibers and PEEK. Its high thermal conductivity, enabled thanks to its specific formulation, made CFR PEEK an ideal material for a variety of industries as aerospace or electronic. Create functional prototyping, end-use parts or material development with the CFR PEEK material.

Adavanced materials for advanced projects.


With the continued cooperation and commitment to providing the highest quality of material, Apium guarantees the purity and dimensional tolerances of all their materials. They focus and develop high-performing materials to fulfil their suitability for FFF 3D printing technology always. 
 
Apium CFR PEEK Black Material:

For the production of lightweight or high thermal conductivity parts, Apium CFR PEEK filament enables the 3D print of models from prototypes to end-use parts. This material is a combination of Carbon Fibers and PEEK which makes possible the print of parts where thermal management is particularly important. Thanks to its different properties, CFR PEEK is suitable for the print of part as drive shafts, electrical insulators, heats dissipation and much more.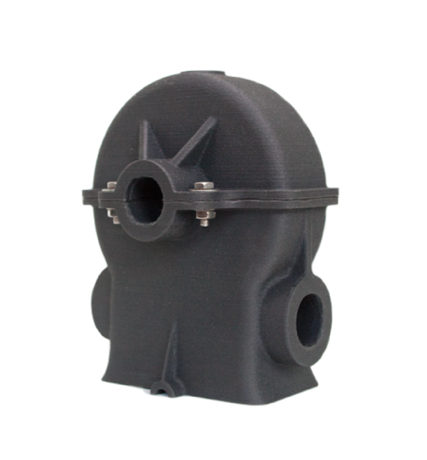 Applications: Aerospace, Automotive, Electronic, Oil & Gas

Key Features:
High wear resistance
Low density 
Good chemical resistance
Excellent tensile strength
Hydrolysis and superheated steam resistant
High stiffness
Long -term temperature capabilities
Corrosion resistance
Stable performance
Produktinformation
Filamentdiameter

1.75

Farve

Opaque Black

Nettovægt

500g

Material

Polyetheretherketone with carbon fibre fillers

Smeltepunkt

341˚C

Trækstyrke

112 MPa

E-modul

6000 MPa

Compressive Strength

25/47 MPa

Hårdhed

298

Brudforlængelse

10%
Du vil eventuelt også synes om