Polysmooth is a set of filaments designed for new 3D printing innovation and creations. This filament is innovative and easy-to-use and built for hands-free post processing. Its surface can also be polished with the Polysher, made with alcohol which gives layer free models.
Layer-Free technology
This Layer-Free technology consists of using an aerosol of micro-sized alcohol droplets on a 3D printed part, leading to a fast-paced vibrating, perforated membrane identified as a nebulizer. The surface of the 3D printed part then absorbs then soaks up the aerosol, resulting into a smooth and layer-free surface.
Packaging

Notes
Bed Surface: Glass with glue, blue tape
Cooling Fan: ON
Drying Settings: 60˚C for 12h
Advised materials: PolyDissolve™ S1
---
For further information and advice on how Polymaker can benefit your business, please do not hesitate to get in touch with one of our advisors by calling the telephone number at the top of the page, or by clicking the button below and requesting a call-back: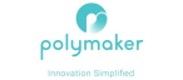 Data sheet
Printing Speed

40mm/s – 60mm/s

Weight

750g

Nozzle Temperature

190˚C – 220˚C

Bed Temperature

25˚C – 70˚C

Glass Transition Temperature

70˚C

Tensile Strength

39.8 ± 0.7 Mpa

Flexural Strength

64.9 ± 1.2 Mpa

Young's Modulus (MPa)

2047 ± 111 Mpa

Charpy Impact Strength

9.2 ± 1.2 kJ/m2

Vicat Softening Temperature

70˚C