Zurück

3D Drucker

SLA 3D Printers

Bioprinters

3D Scanner

3D Scanners By Application

Material

Filament By Brand

Filament By Material

SLS Powder by Brand

SLM Powders by brand

3D Printing Clay

Ersatzteile & Zubehör

Software

Service

Our services for 3D Printing, Scanning, Designing and more...

Large-scale Continuous Carbon Fibre manufacturing service.

Angebote

View our currently discounted items.

View ex-demo and used products which have been reconditioned by our engineers.
B9 Model Cure
Die B9 Model Cure ist eine kompakte, hochintensive UV-Nachhärtungslösung für Harzmodelle in Anwendungen wie Schmuck, Prototyping oder Modellbau.
Finden Sie in dieser Aushärtungseinheit einen Weg, um Ihren täglichen Arbeitsablauf durch sein effektives Design und präzise, zuverlässige und einfach zu bedienende Weise zu vereinfachen.
Stroomlijn uw workflow en verhoog de productiviteit met de B9 Model Cure van B9Creations. Met een hoge lichtintensiteit en timer-, alarm- en geheugenfuncties worden afdrukken sneller en met herhaalbare resultaten genezen.
Hauptmerkmale :
Empfohlene Aushärtungszeit : Kleine Modelle 2-3 Minuten. Große Modelle 5-10 je nach Dicke und Größe.
Inklusive Glasbehälter zur Aushärtung von Modellen unter Wasser.
Digitale Timer-Anzeige : Timer-Auswahl von 10 Sekunden bis 9:50 maximal.
3 Speichereinstellungen ermöglichen einen wiederholbaren Arbeitsfluss.
Große Kammer, die in der Lage ist, mehrere Modelle gleichzeitig zu härten.
Lichtenergieintensität über 40,0 mW / cm², viel höher als Konkurrenten.
Kompaktes, platzsparendes Design.
Akustische Signaltöne, wenn der Aushärtungsvorgang abgeschlossen ist.
Sicherheitsschalterfunktionen zur Vermeidung von Lichtemission bei geöffneter Tür.
Typische LED-Lebensdauer überschreitet 50.000 Stunden, was mehr als 60 Jahre bei 1 Stunde pro Tag entspricht.
Breid uw mogelijkheden voor nabewerking uit
Combineer de B9 Model Cure met de B9Clean-wasunit om uw nabewerking verder te automatiseren en uw bedrijf tijd en geld te besparen.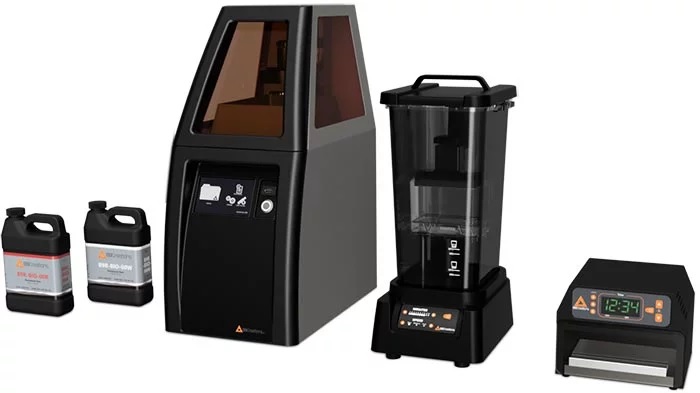 Technische Daten
Maße der inneren Kammer

12.7cm x 17cm x 7cm

Gewicht

3,3 Kg

Round Bowl Dimensions

10cm x 6.5cm

Wellenlänge

390-410 nm

Stromausgang

65 Watts

Lichtquelle

UV LED

Stromeinspeisung

100-220 VAC / 50-60 Hz
Vielleicht gefällt Ihnen auch