Zurück

3D Drucker

SLA 3D Printers

Bioprinters

3D Scanner

3D Scanners By Application

Material

Filament By Brand

Filament By Material

SLS Powder by Brand

SLM Powders by brand

3D Printing Clay

Ersatzteile & Zubehör

Software

Service

Our services for 3D Printing, Scanning, Designing and more...

Large-scale Continuous Carbon Fibre manufacturing service.

Angebote

View our currently discounted items.

View ex-demo and used products which have been reconditioned by our engineers.
DWS XFAB 3500SD
Der DWS XFAB 3500SD bietet professionelle Harz Modelle für Herstellungsprozesse an. Der XFAB 3500SD produziert sehr detaillierte Modelle und Einzelteile welche durch die gleiche Technologie (XFAB BluEdge) ermöglicht werden. Die Maschine ist kompatibel mit einer Reihe von DWS professionellen Materialien.   
Advanced  technology with a simplified user experience: DWS XFAB 3500SD

iMakr's Verdict:

Advancing in the XFAB range of SLA printers, the DWS XFAB 3500SD offers users an affordable 3D solution with higher resolutions than other machines at this price point. It requires no calibration and allows for customised parameters to simplify and diversifiy the printing process. It's industrial technology and top quality materials make the XFAB 3500SD a leading solution for users who require a rapid production time with high resolution like in R&D departments, professional labs, and medium size companies. Choose from a selection of DWS professional materials to print your models.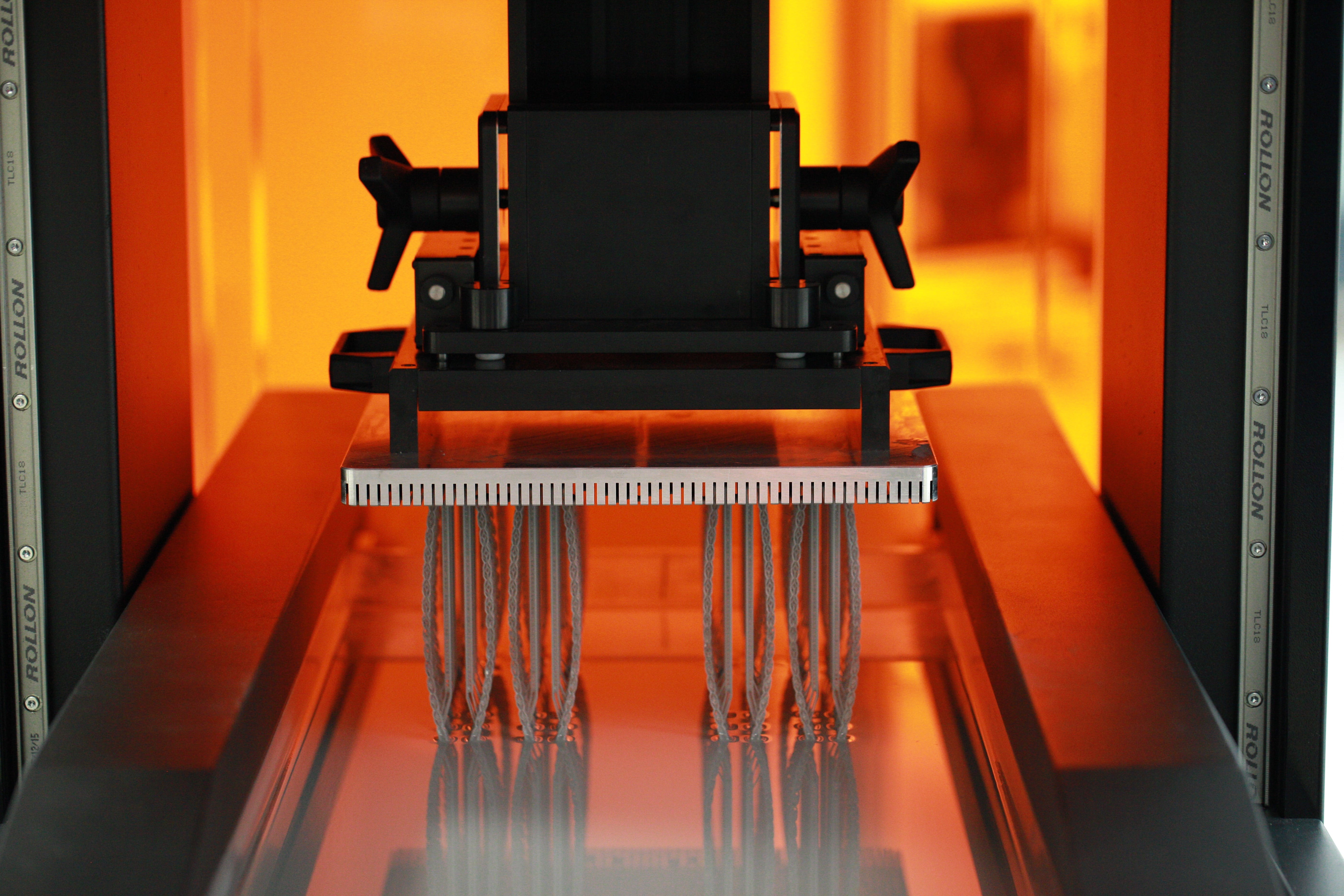 Key Features:
Building area: 140 x 140 x 180 mm
Compact design for desktop use
No calibration required- printer with "Plug and Play" USB connection
Integrated touch screen computer
Simple and intuitive interface
Patented work platform with instruments for easy removal of models
TTT (Tank Translation Technology) patented system, which optimises the tank consumption, increasing its duration
Automatic heating system and material temperature control
BluEdge® proprietary laser
No calibration required
Proprietary 3D editor: Nauta XFAB Edition with automatic generation of support structures
Wide range of importable 3D formats




Compatible Materials:
FUSIA DC500 Casting Resin 
THERMA DM210 Moulding Resin 
THERMA DM220 Moulding Resin
PRECISA DL260 Moulding Resin
FLEXA GM08 Rubber-like Resin 
FLEXA GM08B Rubber-like Resin
VITRA DL375 Resin
VITRA DS2000 Resin 
INVICTA DL360 Moulding Resin
INVICTA DL370 Moulding Resin 
INVICTA DL380 Moulding Resin 
INVICTA DL385 Moulding Resin 
INVICTA DL390 Moulding Resin 
INVICTA DL395 Moulding Resin
INVICTA AB001 Abs-like Resin
INVICTA AB002 Abs-like Resin






What's included in the system:
1 XFAB 3500SD Printer
1 Grooved Building Platform usable mm 140x140
1 Built-in PC
1 Resin Tank mod. RX180
1 Set of Handling Tools
1 Nauta XFAB Edition Software License
1 Fictor XFAB Edition Software License
1 User Manual
12-month Limited Warranty (24 months warranty* on spare parts)




Technische Daten
Drucktechnologie

SLA

Bauraum W x T x H (mm) // W x T x H (inch)

140 x 140 x 180 mm.

Schichtdicke / Druckpräzision

10-100 microns (depends on the kind of material used)

Lichtquelle

Solid State BluEdge®

Besondere Eigenschaften

No calibration required, Wide range of importable 3D formats

Dateiformat

.stl, .slc, .nauta, .fictor, .mkr, .3dm, .3ds, .ply, .obj, .lwo, .x

Dimensions

400 x 606 x 742 mm

Anschlussmöglichkeit

1 active internet connection

Drucker Software

Fictor XFAB Edition, Nauta XFAB Edition
Vielleicht gefällt Ihnen auch