Quicksurface Full
Quicksurface is simple to use, but immensely powerful 3D reverse engineering software, featuring parametric hybrid modelling and surfacing tools to transform scanned data to history-based CAD models quickly and easily.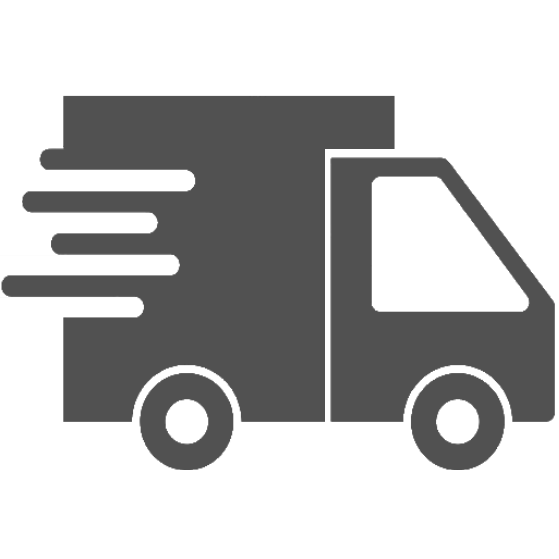 Free shipping on orders over $500 to mainland US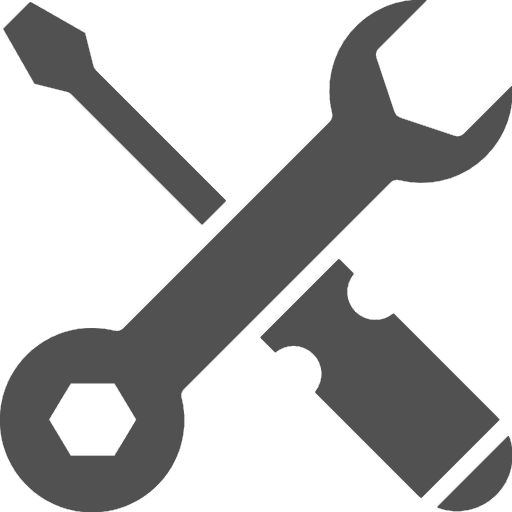 Free lifetime remote support on all products
---
QUICKSURFACE is a complete reverse engineering solution which can work with data from almost any 3D scanner capable of exporting STL files or PTX point clouds. Featuring stand-out tools such as parametric modelling, free form surface modelling, mesh realignment with real-time colour deviation map and Solidworks integration, Quicksurface is an ideal solution for reconstructing scanned shapes and exporting to a CAD-editable format. The software is easy to use and quick to learn, so is perfect for professionals and non-professionals who wish to get up to speed with minimal disruption to workflow. A customisable user-interface allows the operator to set-up a familiar work environment to further streamline the process. Quicksurface Full is a powerful, flexible and affordable solution for any business wishing to take advantage of the benefits that reverse engineering has to offer.
---
Quicksurface Full Workflow

---
Quicksurface Full Key Features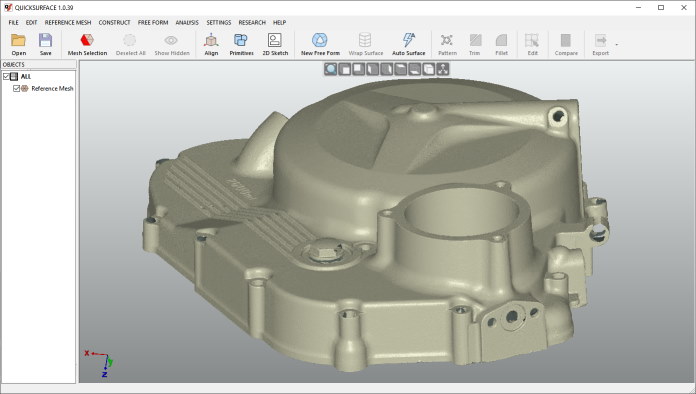 Import Scan Data
Import scanned data from any scanner as industry standard STL mesh files. For long range scanners, import point cloud data using the PTX file format. Reduce the number of polygons while keeping the original reference mesh for best results.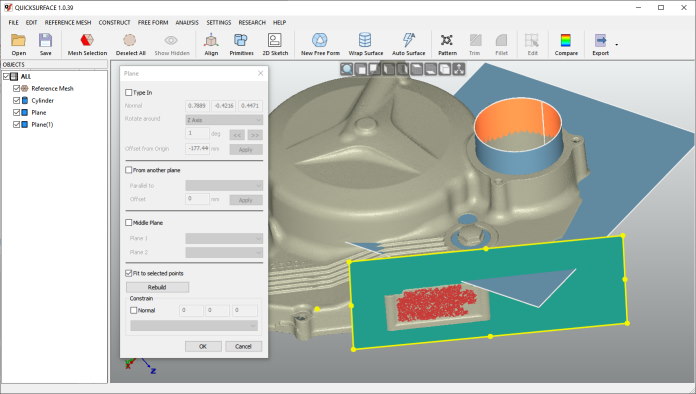 Create Primitives
Create precise primitives by using curvature-based selection and best-fit algorithms to quickly reconstruct planes, cylinders and spheres.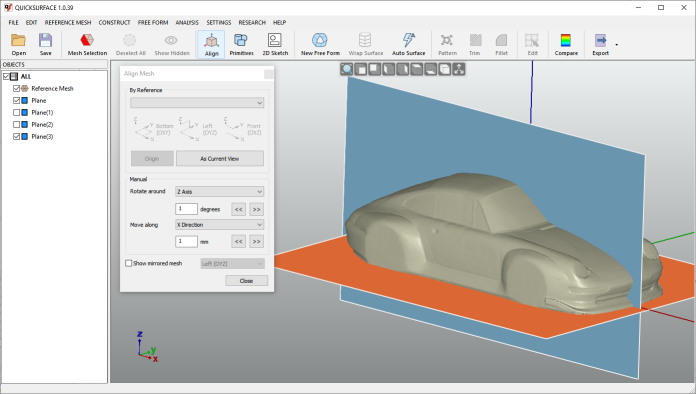 Orient The Reference Mesh
Orient the imported mesh with respect to the world coordinate system using extracted primitives or position manually. Mirrored points of the mesh can be displayed to correctly set-up symmetrical objects.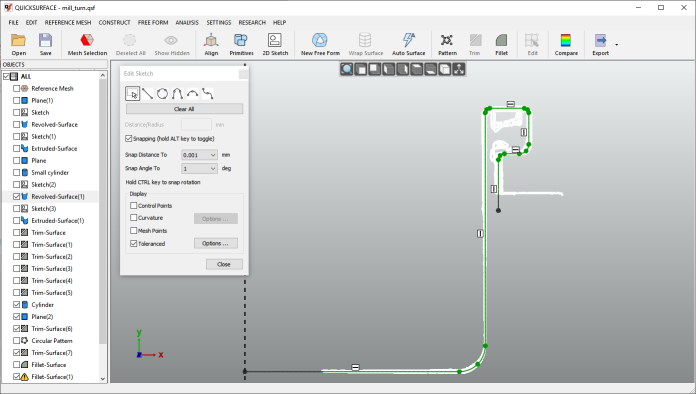 2D Sketching
Use 2D Sketching by taking section points from the mesh as a reference and construct extruded and revolved surfaces from the sketch. A real-time deviation colour map provides control over the whole process.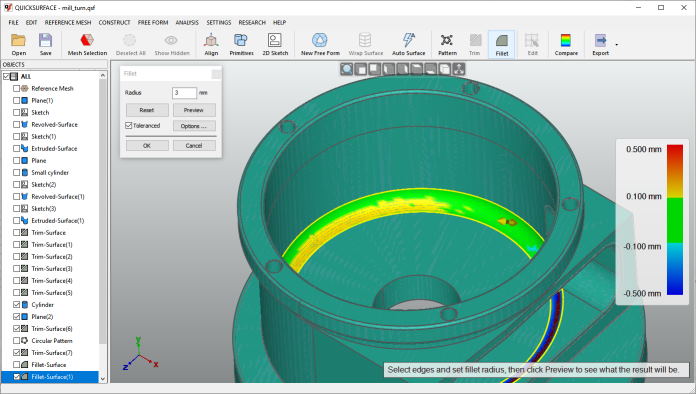 Trim, Fillet and Patterns
Apply standard CAD operations on surfaces to achieve connected surfaces or solid bodies. Use real-time control of fillet operations to obtain the best results. Utilise Mirror and Circular patterns to great results in less time.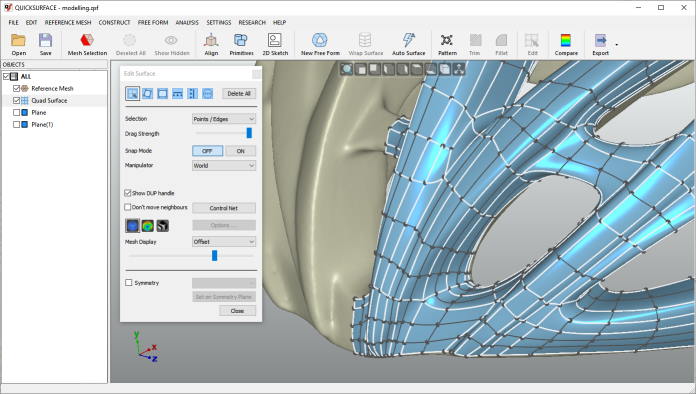 Free Form Surface Modelling
Take advantage of Quicksurface's unique Quad surface to manipulate and reconstruct free form organic surfaces. A real-time analyzer and snap-to-mesh technology allow even non-professionals to create shapes in no time.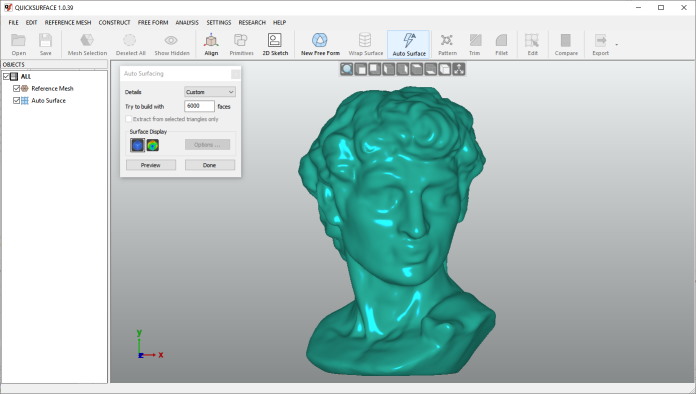 Automatic Surfacing
Easily create surfaces on organic shapes with just a click of a button.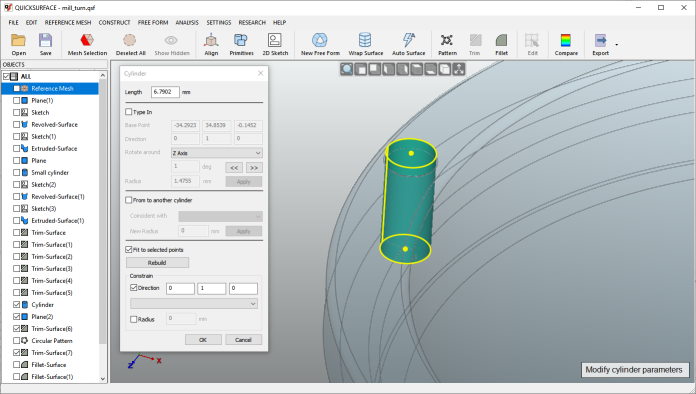 History-based Parametric Modelling
A stand-out feature of Quicksurface is the ability to use history-based modelling. Go back and modify previous commands and update the final result immediately.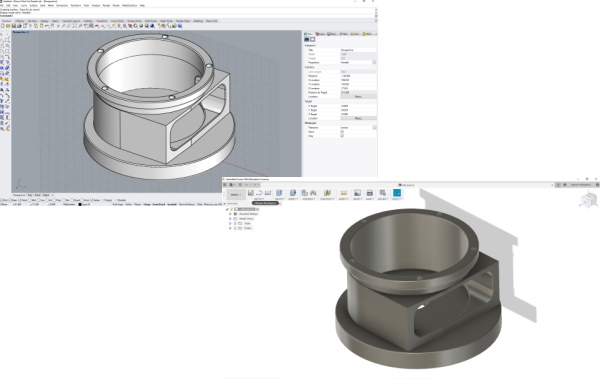 Export To CAD
Export reconstructed surfaces or solid models in industry standard STEP or IGES formats for use in other CAD packages.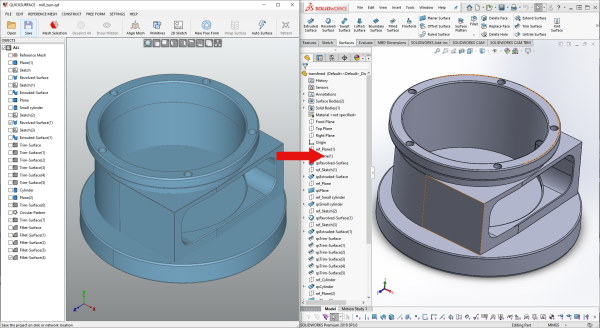 Solidworks Integration
Transfer the whole parametric history directly into SOLIDWORKS®. The process is controlled by Quicksurface to achieve error-free models quickly and efficiently.
---
For further information and advice on how Quicksurface reverse engineering software can benefit your business, please do not hesitate to get in touch with one of our advisors by calling the telephone number at the top of the page, or by clicking the button below and requesting a call-back:
*The images on this page cannot be modified for commercial or advertising use, nor can they be copied or reproduced in any form without the permission of KVS Ltd, Bulgaria.
Data sheet
Software Compatibility

Windows 10