Cubicon Style NEO-A22C
The Cubicon Style NEO-A22C is an ideal printer for large 3D models that require expert precision printing. This 3D printer allows for real-time monitoring of print progress from your smart device through a built-in internal camera and remote printing through wifi connectivity.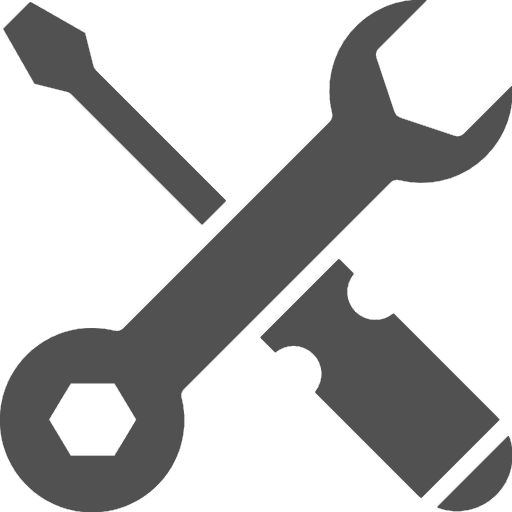 Kostenloser lebenslanger Remote-Support für alle Produkte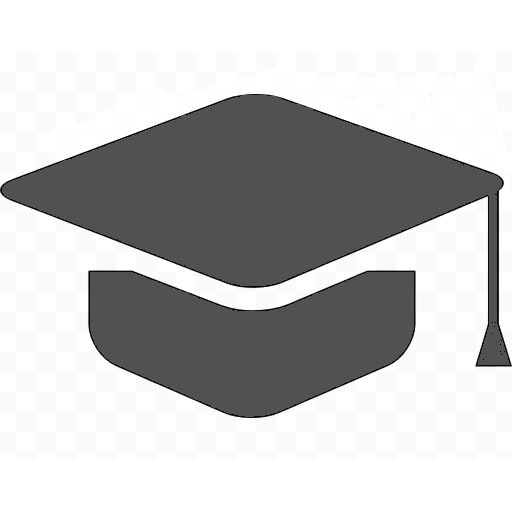 Fragen Sie uns nach unseren Bildungsrabatten
The Style NEO 3D printer by Cubicon is their largest FFF printer to date. With a build volume of W220 x D220 x H220 mm, the Style NEO creates an ideal space for versatile projects and larger scale prints with expert printing precision. The Cubicon Style NEO-A22C can print with a layer thickness between 100 and 300 um at a max printing rate of 150mm/second.
Bigger projects, amazing quality
With the new build size lineup, the Cubicon Style NEO-A22C has expanded the bed size and increased output volume by approximately 324% when compared to the Style Plus-A15CR. The larger bed size provides the freedom to create prints in a wide variety of sizes.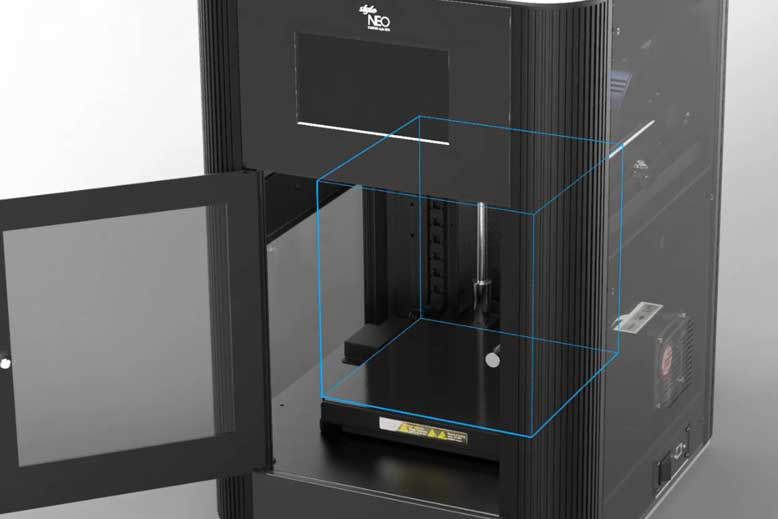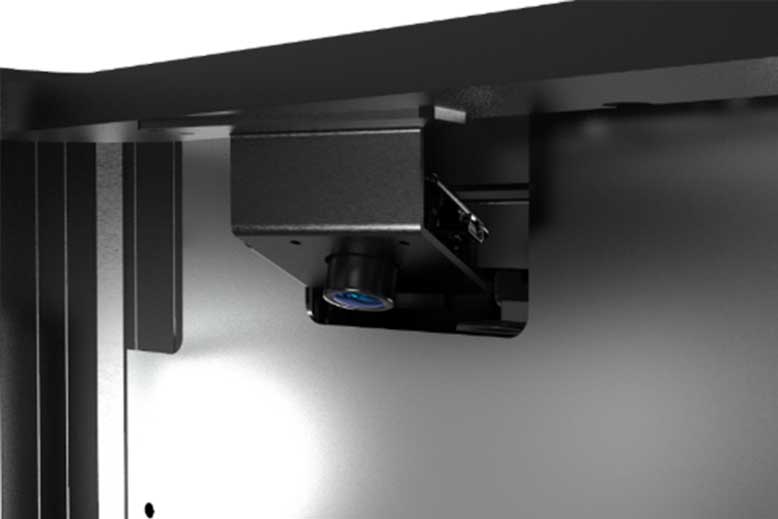 Real-time monitoring with built-in camera
The internal camera featured on the Style NEO-A22C provides users with the ability to remotely check on the printing process from a computer or smartphone. If an output error or failure is identified, the output situation can be controlled remotely.
Auto-Leveling Plus ensures error-free prints
This 3D printer features Auto-Leveling Plus, automatically ensuring the nozzle is the correct distance away from the build plate. The Cubicon Style NEO delivers auto-leveling with error precision within 10μm, providing users with extremely accurate and high quality prints.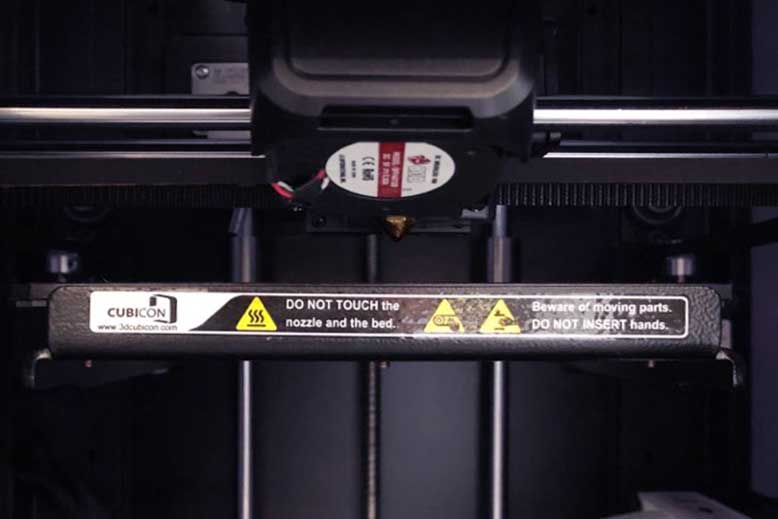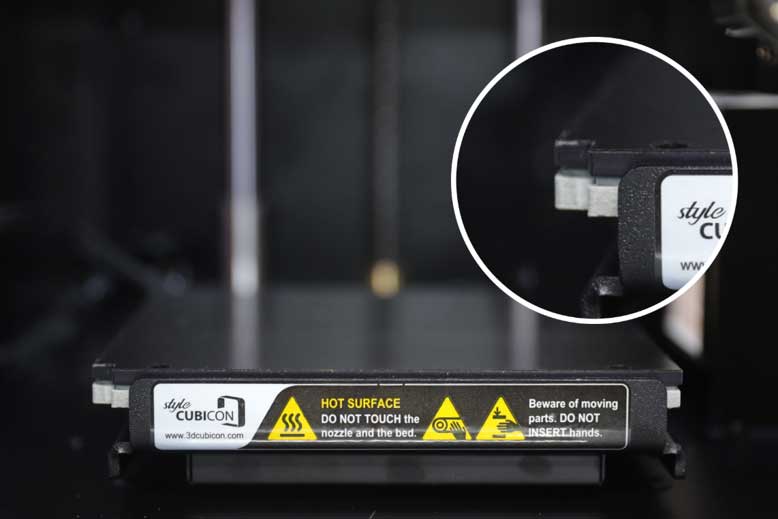 The specially coated build plate allows for easy print adhesion and removal
The build plate of the Cubicon Style NEO is specially coated for strong filament adhesion at the start of your printing process without any additional adhesives. When the build plate cools down, the finished print can be easily removed from the build plate. Thermal efficiency has also been improved by the application of insulation to the bottom of the heating bed.
Larger touchscreen for smooth navigation
The Style NEO-A22C features a 7-inch full colour touchscreen for easy 3D printer menu navigation and print monitoring. The UI allows beginners to easily operate the printer and check information quickly.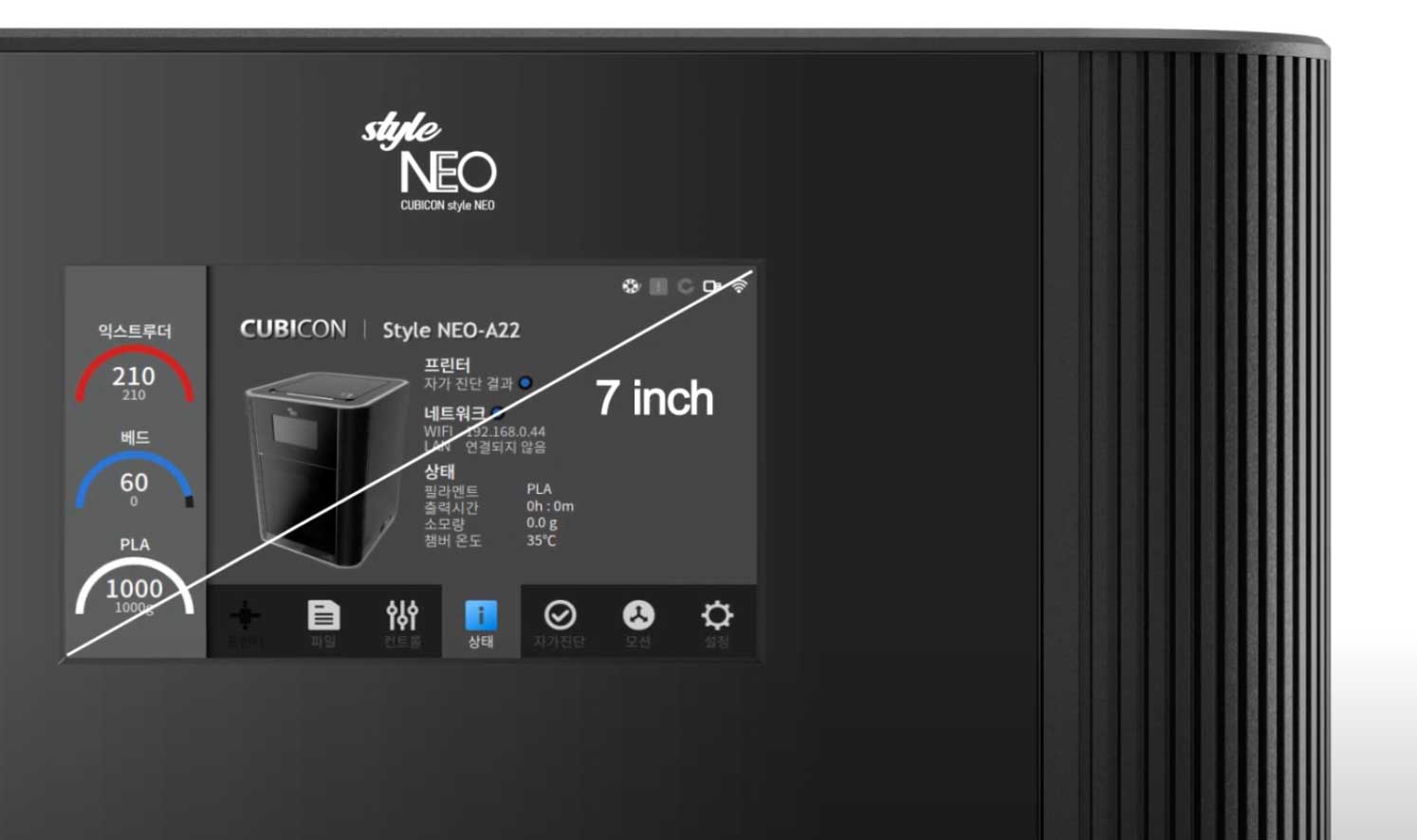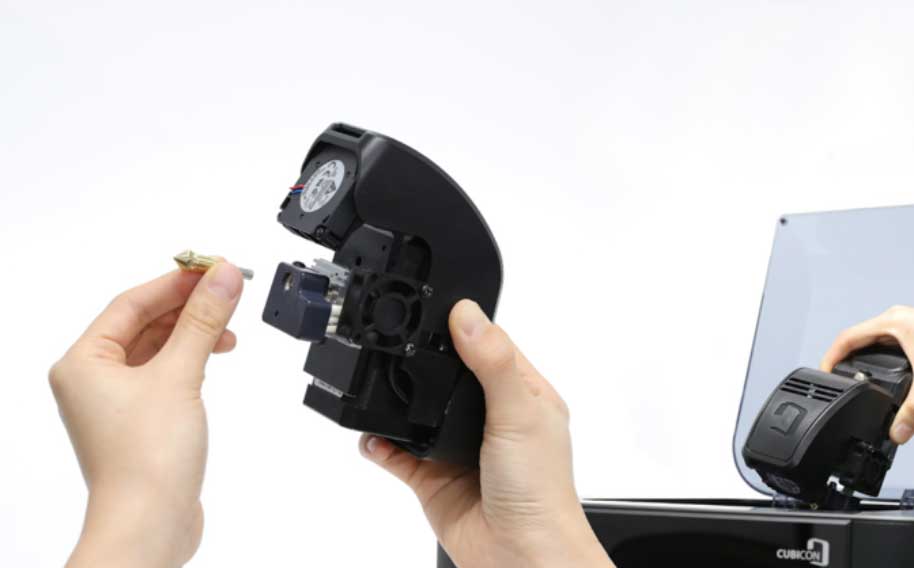 Easy maintenance
The Style NEO features a self-replaceable nozzle and extruder that is easily attached and detached. Easy at-home maintenance will save you extra time and money, getting your projects done faster.
Stainless steel nozzle kit
The stainless steel nozzle kit patented by Cubicon has enhanced usability and minimised the probability of print failure. Different from a typical nozzle kit with a tube attached, it is connected with a stainless steel pipe to provide excellent performance even in hot output materials.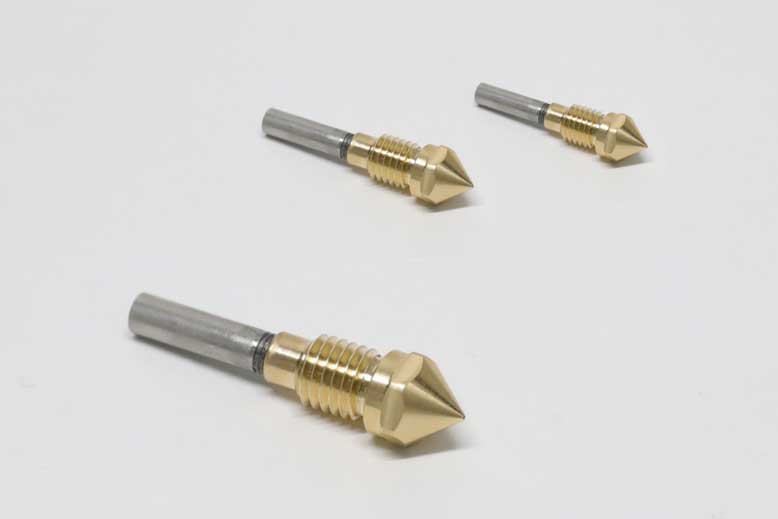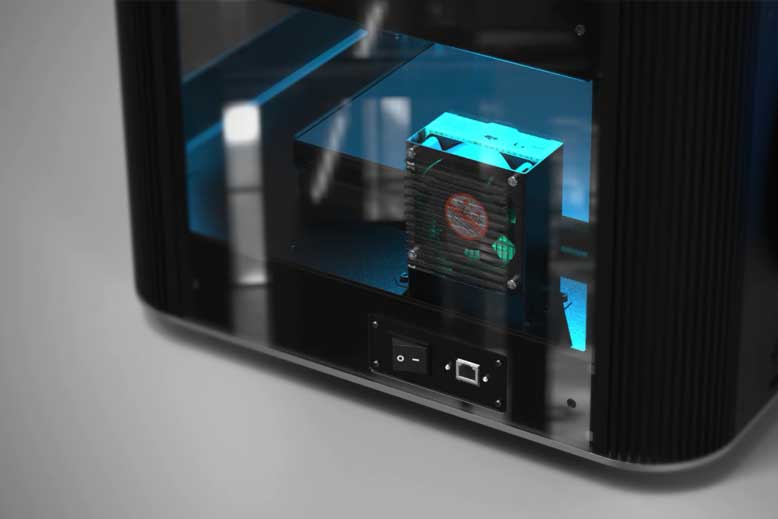 Triple air filtration for a safer printing environment
The Cubicon certified triple air filter (Hepa·Carbon·Purafil Catalyst Filter), is able to efficiently block dust, gas, and odours generated when using FDM type 3D printers. The filtration system helps to eliminate micro dust, toxic gases and unwanted odours during the printing process.
Print through Wifi with Cubicreator
Access to the Cubicon slicing software Cubicreator comes free with the purchase of the Style NEO-A22C. Printing is now more convenient than ever with Cubicreators capability to communicate with your printer through Wifi allowing for wireless printing.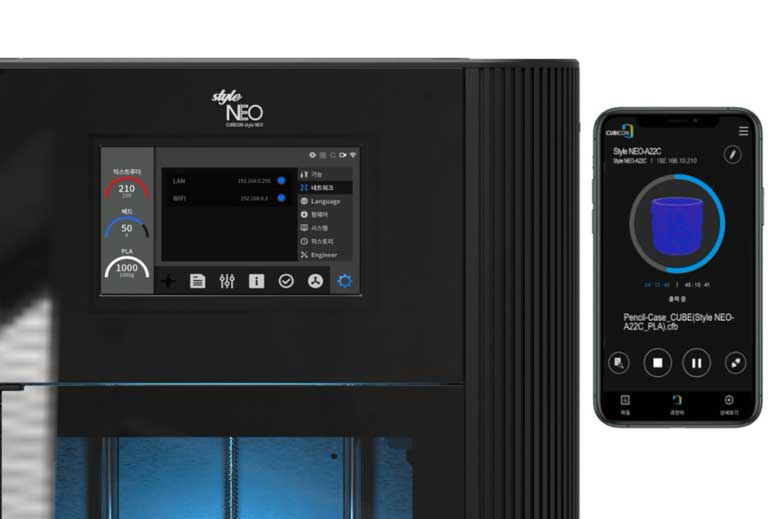 For further information and advice on how Cubicon printers can benefit your business, please do not hesitate to get in touch with one of our advisors by calling the telephone number at the top of the page, or by clicking the button below and requesting a call-back:

Technische Daten
Drucktechnologie

Fused Filament Fabrication

Bauraum W x T x H (mm) // W x T x H (inch)

W220 x D220 x H220 mm

Filamentdurchmesser (mm)

1.75mm

Gewicht

32kg

Materialtypen

ABS, ABS-A100, PLA-PLUS, PLA-i21, PETG, TPU(Flexible)

Maße

W405 x D451 x H597 mm

File Format

STL, OBJ

Anschlussmöglichkeit

USB(FAT32/NTFS), Ethernet, Wifi

Drucker Software

Cubicreator v4 (64bit)

Software-Kompatibilität

Windows 7+ (64bit)

Shipping Dimensions

W530 x D570 x H680 mm

Shipping Weight

37kg