Zurück

3D Drucker

SLA 3D Printers

Bioprinters

3D Scanner

3D Scanners By Application

Material

Filament By Brand

Filament By Material

SLS Powder by Brand

SLM Powders by brand

3D Printing Clay

Ersatzteile & Zubehör

Software

Service

Our services for 3D Printing, Scanning, Designing and more...

Large-scale Continuous Carbon Fibre manufacturing service.

Angebote

View our currently discounted items.

View ex-demo and used products which have been reconditioned by our engineers.
EnvisionTEC E-Shell 200 Series
The EnvisionTEC E-Shell 200 Series is a low viscosity liquid photopolymer that produces strong, tough, water-resistent ABS like parts incredibly detailed that are Class 11a biocompatible, according to ISO 10993/Medical Product Law and are CE certified for use as hearing aid products, otoplastics or medical devices. The resin is available in mulitple colours to suit various skin tones, however the exact colouring can be customised. Because of their opaque appearance, similar to production plastics, the resin can easily be used for non-medical applications. The resin was designed specifically for applications in the Medical Device and Hearing Aid industries and is CE marked as a medical product. The E-Shell 200 Series mimics traditional engineering plastics ABS, which makes it usable in many other non-hearing-aid applications.
Applications: Hearing Aid, Medical Devices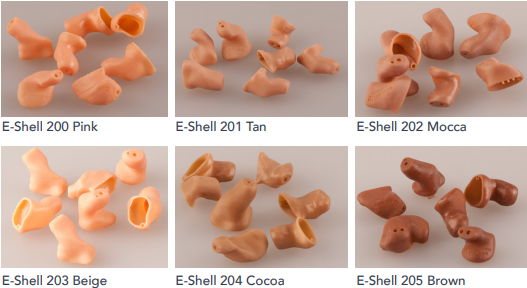 Material Properties
| ASTM Method | Description | Value |
| --- | --- | --- |
| D638M | Tensile Strength | 57.8 MPa |
| D638M | Elongation at Break | 6% |
| D638M | Elongation at Yield | 3.2% |
| D638M | Modulus of Elasticity | 2400 MPa |
| D638M | Poisson's Ratio | 0.21 |
| D790M | Flexural Strength | 109 MPa |
| D790M | Flexural Modulus | 2300 MPa |
| D256A | Izod Impact - Notched | 21.1 J/cm |
| D570 - 98 | Water Sorption | 0.12% |
| D-149-97a | Dielectric Strength | 14.6 |
| E1545-00 | Glass Transition Temperature | 109° C |
Key Features
Tough function prototypes
Appearance models with minimal finishing
Durable concept models with high cross linkage
High humidity environment applications
RTV patterns
Water resistance applications
Hearing aid devices manufacturing
Technische Daten
Tensile Strength

57.8 MPa

Flexural Strength

109 MPa

Flexural Modulus

2300 MPa

Elongation at Yield

3.2%
Vielleicht gefällt Ihnen auch