Zurück

3D Drucker

SLA 3D Printers

Bioprinters

3D Scanner

3D Scanners By Application

Material

Filament By Brand

Filament By Material

SLS Powder by Brand

SLM Powders by brand

3D Printing Clay

Ersatzteile & Zubehör

Software

Service

Our services for 3D Printing, Scanning, Designing and more...

Large-scale Continuous Carbon Fibre manufacturing service.

Angebote

View our currently discounted items.

View ex-demo and used products which have been reconditioned by our engineers.

PolyFlex™ is a set of advanced 3D printing filaments engineered with high-quality flexible materials and designed to offer high flexibility and durability. Polyflex TPU95 is a thermoplastic polyurethane (TPU) based filament meant to function on the majority of desktop 3D printers. It has a shore hardness of 95A and is able to extend itself 3 times its own length.
Packaging

Notes
Bed Surface: Glass with glue, blue tape, BuilTak®
Cooling Fan: ON
Drying Settings: 70˚C for 12h
Shore Hardness: 95A
Advised Support Materials: PolySupport™and PolyDissolve™ S1
---
For further information and advice on how Polymaker can benefit your business, please do not hesitate to get in touch with one of our advisors by calling the telephone number at the top of the page, or by clicking the button below and requesting a call-back: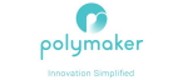 Technische Daten
Druckgeschwindigkeit

20mm/s – 40mm/s

Gewicht

750g

Düsentemperatur

210˚C – 230˚C

Bed Temperature

25˚C – 60˚C

Tensile Strength

29 ± 2.8 Mpa

Young's Modulus (MPa)

9.4 ± 0.3 Mpa

Elongation at Break (%)

330.1 ± 14.9(%)
Vielleicht gefällt Ihnen auch