Zurück

3D Drucker

SLA 3D Printers

Bioprinters

3D Scanner

3D Scanners By Application

Material

Filament By Brand

Filament By Material

SLS Powder by Brand

SLM Powders by brand

3D Printing Clay

Ersatzteile & Zubehör

Software

Service

Our services for 3D Printing, Scanning, Designing and more...

Large-scale Continuous Carbon Fibre manufacturing service.

Angebote

View our currently discounted items.

View ex-demo and used products which have been reconditioned by our engineers.
PolyMide is a set of nylon/polyamide based 3D printing filaments. Engineered with the Warp-Free technology designed by Polymaker, Polymide filaments are meant to add engineering features to nylon materials with ease in 3D printing. The PolyMide CoPA originates from a copomyler of Nylon 6 and Nylon 6,6. Its features include great strength, toughness and it is also heat resistant with a tolerance up to 180˚C.
Warp-Free Technology
Warp free technology allows for nylon-based filaments to be 3D printed with almost no warpage and great dimensional stability. This technology can create these specific filaments due to their unique features such as, the fine control of microstructure and crystallization behavior of Nylon that permits the material to let out all the internal stress before it solidifies. .
Packaging

Notes
Bed Surface: Glass with glue
Cooling Fan: OFF
Drying Settings: 80˚C for 12h
Advised: It is strongly advised to use the PolyBox™ when printing with PolyMide™ CoPA and to store it in the resealable bag. To guarantee a good heat resistance of your printed part it is recommended to anneal your PolyMide™ CoPA 3d printed model. Annealing settings: 70˚C for 2h When used extensively, PolyMide CoPA can be abrasive to brass nozzles. When using PolyMide CoPA, we recommend to switch to a wear resistant nozzle such as hardened steel nozzle.
---
For further information and advice on how Polymaker can benefit your business, please do not hesitate to get in touch with one of our advisors by calling the telephone number at the top of the page, or by clicking the button below and requesting a call-back: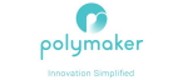 Technische Daten
Druckgeschwindigkeit

30mm/s – 50mm/s

Gewicht

750g

Düsentemperatur

250˚C – 270˚C

Bed Temperature

25˚C – 50˚C

Melting Temperature

190˚C

Glass Transition Temperature

67˚C

Tensile Strength

66.2 ± 0.9 Mpa

Flexural Strength

97.0 ± 1.1 Mpa

Young's Modulus (MPa)

2223 ± 199 Mpa

Charpy Impact Strength

9.6 ± 1.4 kJ/m2

Vicat Softening Temperature

180˚C
Vielleicht gefällt Ihnen auch