Raise3D Pro2 Plus
Welcome to maximum productivity with the Raise3D Pro2 Plus featuring a tall and wide build volume of 30.5 x 30.5 x 60.5cm (12 x 12 x 23.8in), as well as industrial-grade dual extruders and superior print precision.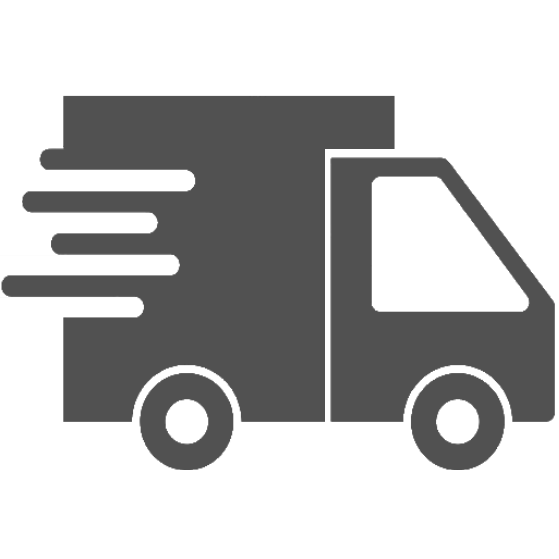 Free shipping on orders over $500 to mainland US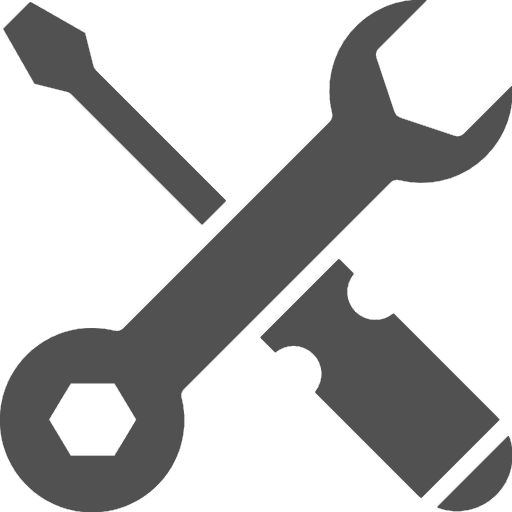 Free lifetime remote support on all products
The Raise3D Pro2 Plus is a large-format 3D printer that packs a professional productivity punch. Its newly upgraded mechanisms and a build volume of 30.5 x 30.5 x 60.5cm (12 x 12 x 23.8in) are raising the bar for manufacturing standards. The Electronic Driven Dual Extrusion system is equipped with retracting nozzles for cleaner dual colour printing and an upgraded filament extrusion system that has 4× increased torque performance for better reliability and faster print speeds. The hot-ends are capable of reaching 300°C, allowing a much greater range of materials to be printed - including engineering/industrial-grade filaments such as Nylon Carbon Fibre and Polycarbonate. The precision on the Pro2 Plus machine is unmatched for an FDM 3D printer, capable of printing with layer heights down to 0.01mm. Raise3D has also transformed its build plate system to an aerospace-grade material for even heat distribution and superior warping prevention, so you can ensure the highest quality prints every time. Other important features like the HEPA filter, built-in camera, and factory calibration make this an excellent workhorse of a machine with user-friendly features which make it a pleasure to use.
---
Key Features:
Cleaner Dual Extrusion, High Resolution, Safer Workspace.
The Raise3D Pro2 Plus is capable of achieving stunning high-resolution prints, and with the addition of the new nozzle retraction system, dual material/colour prints are much cleaner. An integrated exhaust fan and HEPA filter removes potentially harmful particulates from the build area.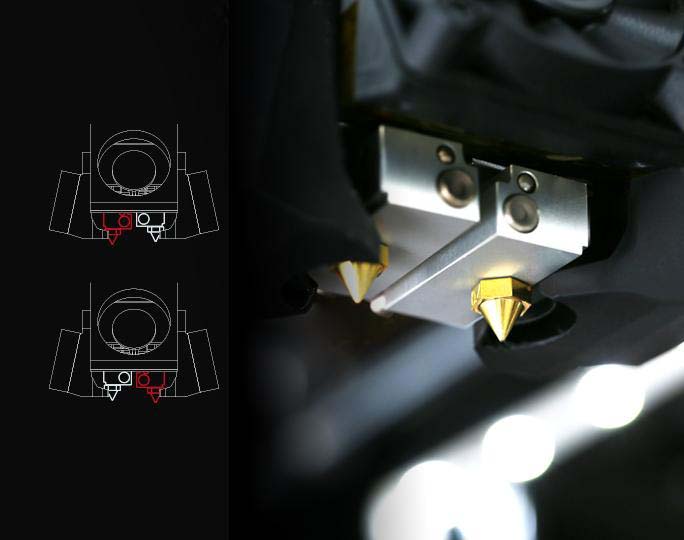 Electronically-Driven Retracting Nozzles
New to the Pro2 Plus is an electro-mechanical system which automatically lifts up a nozzle when it is not in use. Ideal for dual colour or dual material printing.
High repeatability (<0.005m, 5 micron)
High speed (<1 second switching time)
1.5mm lifting distance, compatible with flexible filaments
Reliability tested over 100,000 times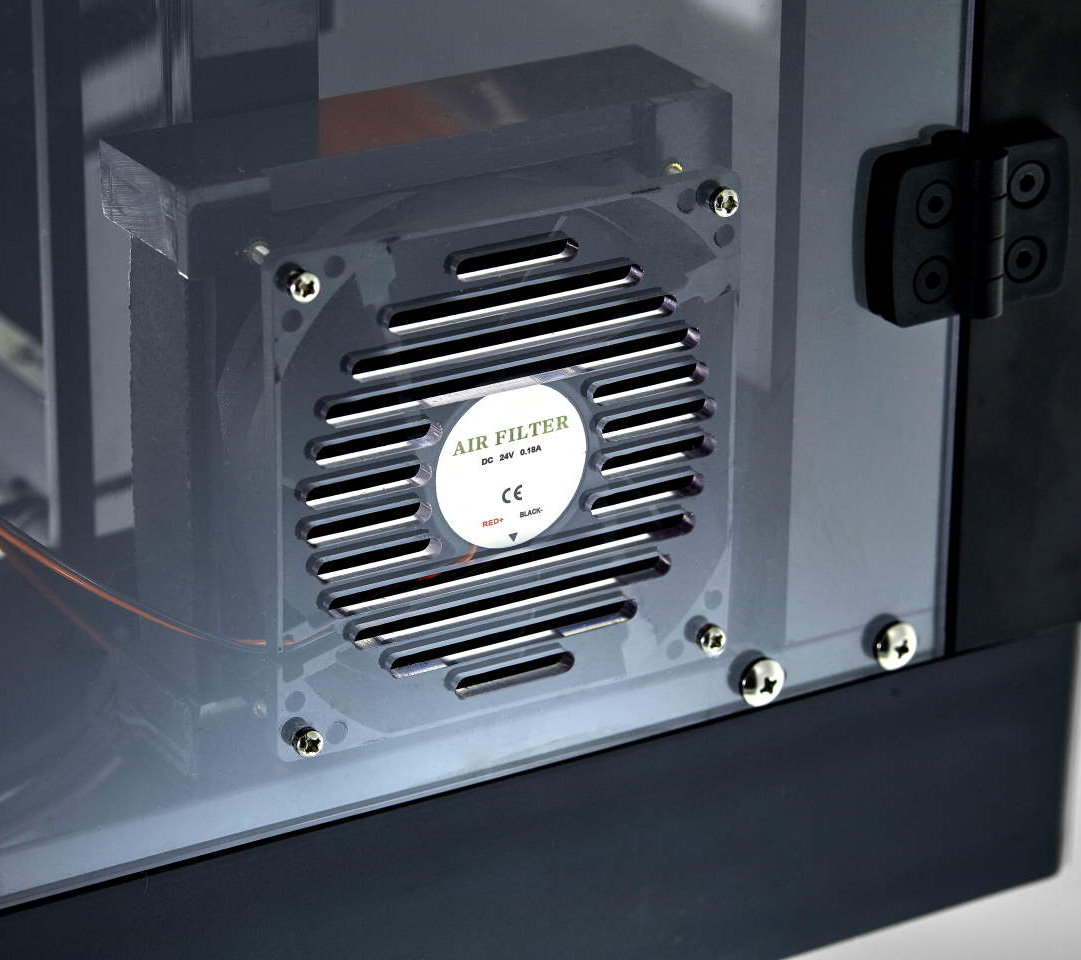 Air Filtration
The integrated quiet fan and HEPA filter removes particulates from the inside of the build chamber for a cleaner and safer working environment.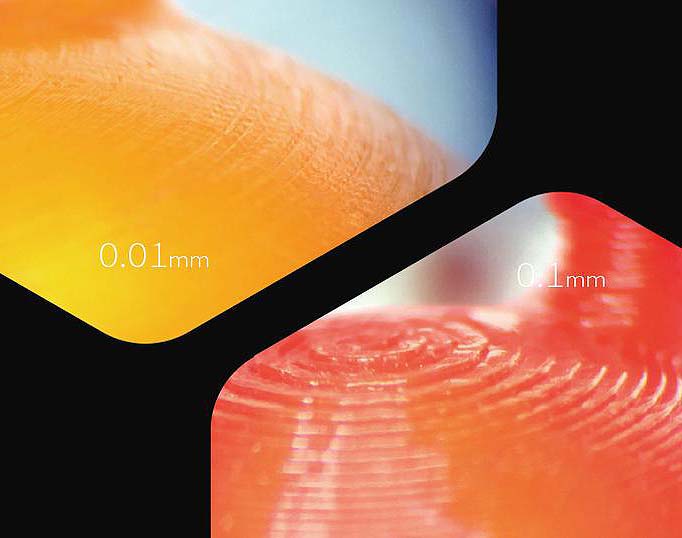 High Resolution and Fine Detail
The Raise3D motion controller board features a next generation ARM Cortex M7 and 256 micro-step motor drivers for super smooth motion and precise positioning
Unmatched layer resolution: 0.01 layer thickness
Precise positioning: 0.0125mm positioning resolution on x/y axis
---
Large Build Volume + Multiple Fail-Safe Functions
Print large parts with confidence. Essential reliability systems such as Power Loss Print Resume, Monitoring Camera and Filament Run-out Detection are built-in as standard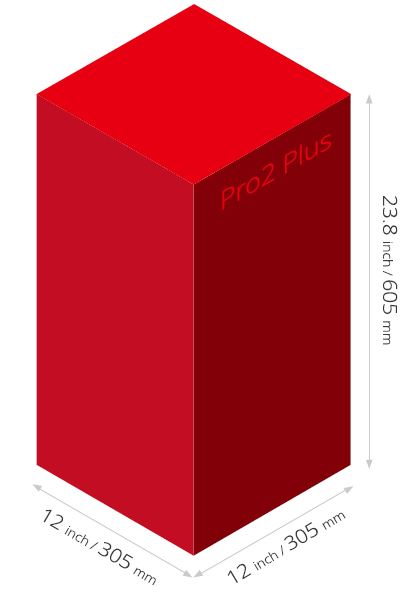 Large Build Volume
The big build volume is ideal for printing large parts or medium volume batch production.
305 x 305 x 605mm (12 x 12 x 23.8 inch) build volume for single extrusion
280 x 305 x 605mm (11 x 12 x 23.8 inch) build volume for dual extrusion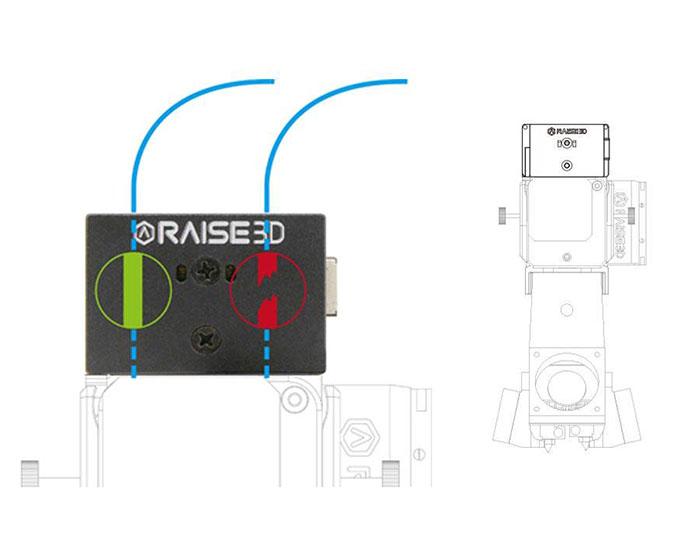 New Extruder with Filament Run-Out Sensor
Better grip. No slipping. Worry-free prints.
Dual gear-driven extruder gives 4× increased torque performance for reliable extrusion and faster printing speeds
An optical sensor detects if the filament has run out during a print job
Hot ends capable of reaching up to 300°C and with additional fan cooling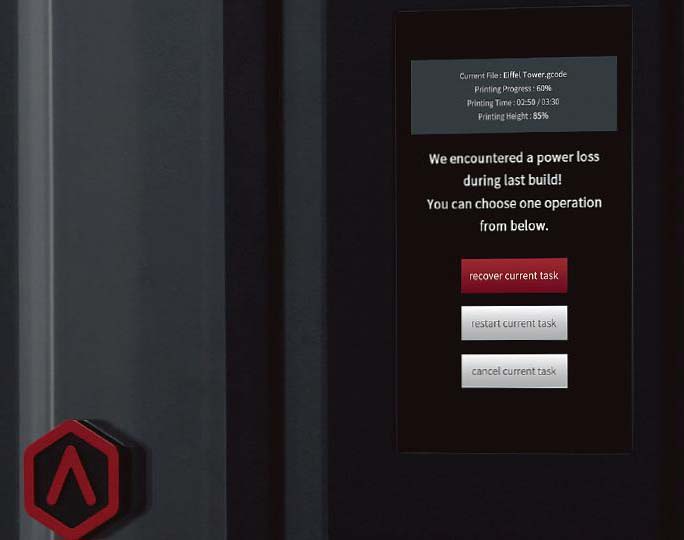 Second Generation Power Loss Resume
In the event of power loss or interuption, the last position of the print head is saved so that the print job can resume from the same place when power is restored. Never lose a print.
---
Optimised and Intuitive User Experience.
The Raise3D Pro2 Plus includes a range of features to make your 3D printing experience as easy as possible.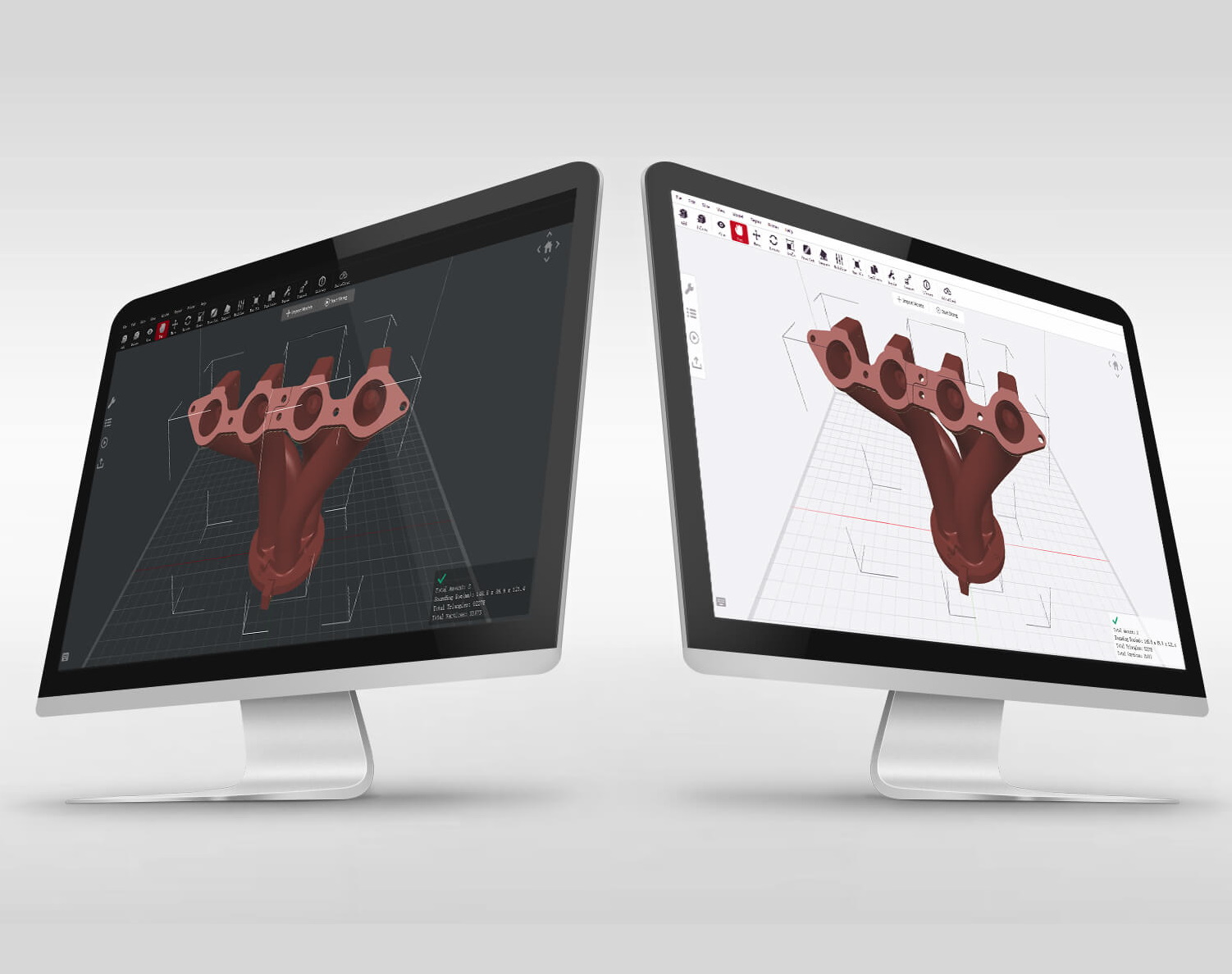 IdeaMaker Software
The IdeaMaker slicing software is easy to use with its one-click parameter optimisation and boasts some impressive advanced features:
Customisable support
Variable settings by region - Select different settings for different regions and layers of a model
IdeaMaker Library access to template files - Download printing profiles for the filament you are using, or create your own profiles and share with the community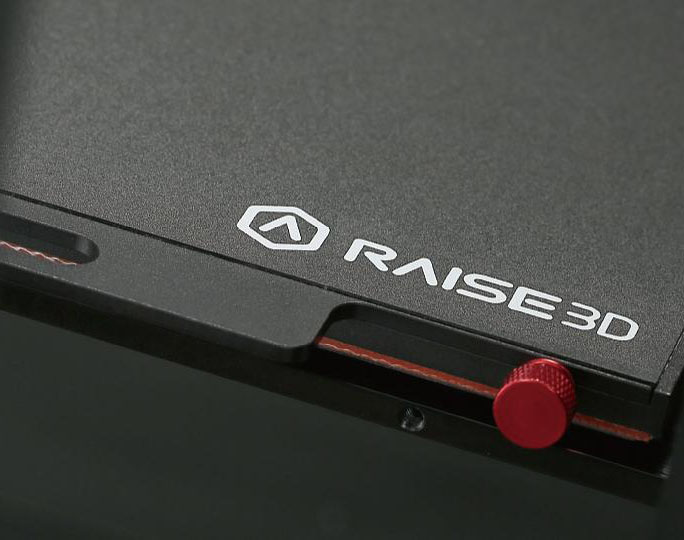 New Build Plate System
Excellent warp prevention. Even heat distribution. Longer lifetime.
Aerospace grade material
High-temperature silicone heating bed
Magnetic hold aluminium bed
Improved 4+9 points lock system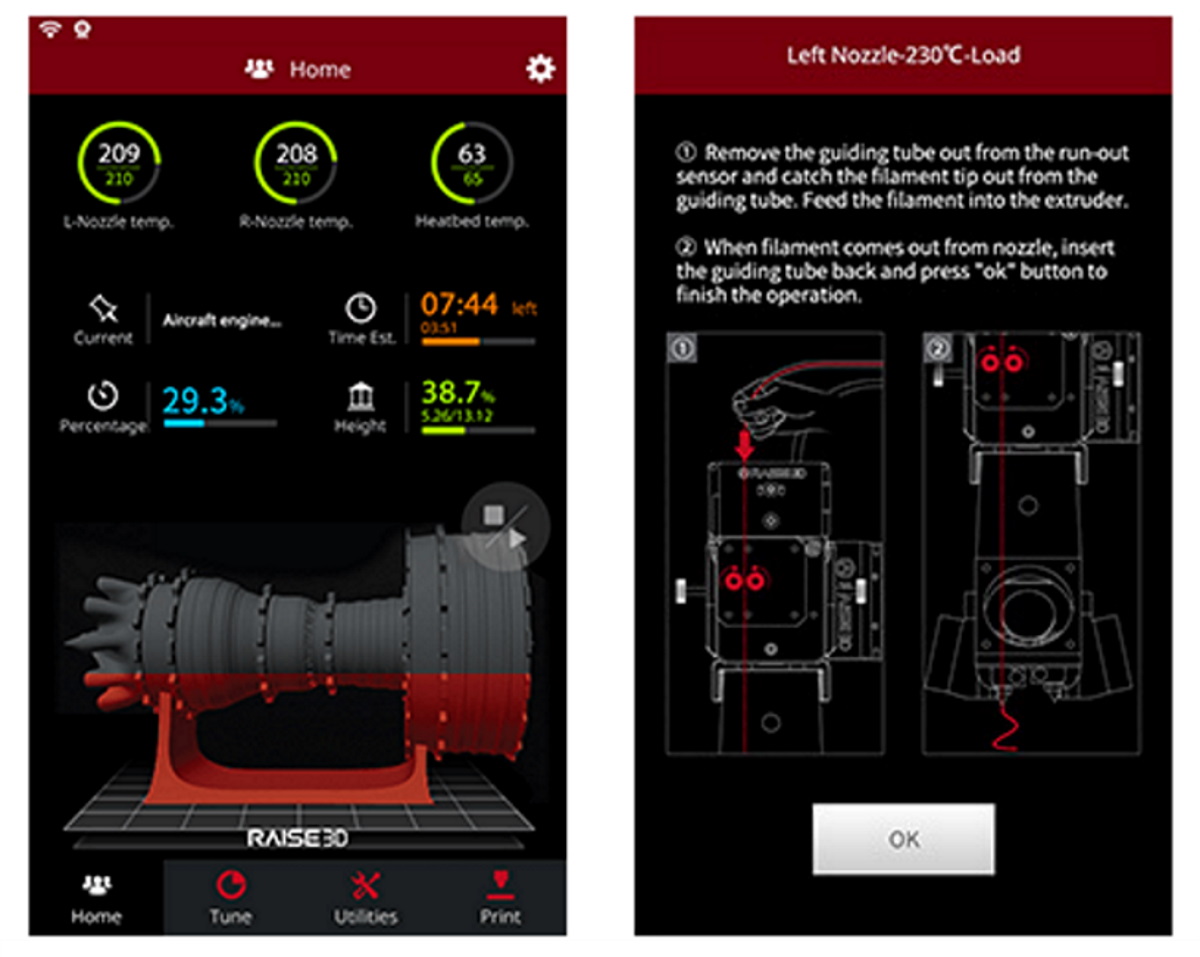 7-Inch Touchscreen
The 7-inch touchscreen provides an enhanced user experience with features such as:
Visual Model Selection
Print progress display
Access to basic and advanced settings
On-screen calibration assistance
---
To find out more about the Pro2 range of Raise3D 3D printers, please do not hesitate to contact one of our advisors by calling the telephone number at the top of this page, or by arranging a call-back using the form via the button below:
Data sheet
Printing Technology

FFF

Build Volume W x D x H (mm) // W x D x H (inch)

Single Extrusion: 305 x 305 x 605mm (12 x 12 x 23.8 inch) Dual Extrusion: 280 x 305 x 605mm (11 x 12 x 23.8 inch)

Extruder

Dual Nozzle with electronic lifting system

Heated Bed

Up to 110°C

Nozzle Diameter (mm)

0.4 mm (Default), 0.2/ 0.6/ 0.8/ 1.0 mm (Available)

Filament Diameter (mm)

1.75mm

Printing Temperature

Up to 300°C

Dimensions

620 x 590 x 1105mm (24.4 x 23.2 x 43.5 inch)

Special Features

Power loss print resume, 7-inch touchscreen, HEPA filter, Filament run out detection

Slicing Software

IdeaMaker

Compatible materials

PLA, ABS, HIPS, PC, TPU, TPE, NYLON, PETG, ASA, PP, PVA, Glass Fibre, Carbon Fibre, Metal Filled, Wood Filled

File Format

STL, OBJ, 3MF

Connectivity

WiFi, USB, LAN

Software Compatibility

Windows, MacOS, Linux

Input Voltage / Power

100-240V